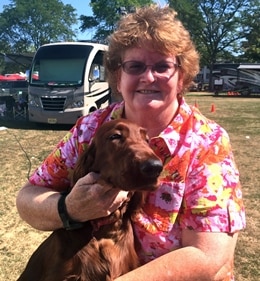 At Pets Best, we recognize that the veterinary industry is largely powered by the hardworking and dedicated certified veterinary technicians across the nation. To acknowledge their tireless efforts, we created the Why I Love Being a Vet Tech contest, now in its second year. In partnership with the National Association of Veterinary Technicians in America (NAVTA), we are pleased to announce the top eight finalists for 2015.
Meet Anne Marie Kubacz. Anne Marie has worked as a vet tech at The Animal Medical Center in New York City for 41 years. Her free time also involves caring for animals—she has shown and bred Irish setters for 43 years, an activity she describes as a family affair. (Anne Marie, her husband Randy, and her son Peter are the only family to each handle a national specialty winner in the history of Irish setters in the U.S.) The family owns an 11-year old house dog, Arrow, which she describes as "a gentleman and a great ambassador for the breed" as well as a 10-year-old Irish wolfhound champion named Greta.
Anne Marie finds great joy in "breeding healthy companions" and seeing how much her dogs "have enriched people's lives." As the Health Chairman of the Irish Setter Club of America, she also assesses the breed's health needs, coordinates an annual health clinic at the group's national specialty, speaks at local Irish setter club events, and writes articles for the group's national publication. She is also passionate about such charities and movements as the American Kennel Club Canine Health Foundation, the One Health Initiative, and Take the Lead.
While Anne Marie admits that much of her life "revolves around pets," she is also a self-professed "Disney fanatic," and enjoys visiting Orlando as often as possible, to experience the "magic" and "escape" of Disney World.
Read on to learn more about Anne Marie and her contribution to the veterinary community.
Why did you choose to become a vet tech?
Initially for me, it was a job I applied for under an ad that read, "Do you love animals? Consider working with us!" My intention was to work until I was married the following summer, and then get a job in my college major (English/Journalism)—something closer to home. This was in the days before vet tech licensing; the job title was 'veterinary nurse'.
The Animal Medical Center was a pioneer in using nurses as partners with veterinarians to provide exceptional patient care; the nursing department was called "Patient Service". When New York state recognized veterinary technology as a profession, people in the profession were eligible to 'grandfather' to sit for the license exam, which was initially a written and then practical exam at Cornell. From the minute my employment started, it felt like such a good fit for me. Forty-one years later, I'm still at The Animal Medical Center, commuting 66 miles each way, and couldn't imagine another job other than veterinary technology.
If you could improve upon or change one thing about the veterinary industry, what would that be?
The amount of debt that veterinarians incur from school is astronomical. Many vet tech schools are also expensive. I wish there was a way that new people in the profession were not in such debt starting out.

Do you see the value of pet insurance for your clients, and does your clinic talk to clients about such coverage?
Insurance can make it easier for pet owners to be able to approve advanced care for their pets that would be out of their financial ability if they had to pay the entire bill. Every new client is asked if they have pet insurance when they register their pet on their initial visit.
Tell us why you enjoy being a vet tech.
Having worked at AMC for 41 years, my passion for caring for people's pets remains constant. It is a privilege to be entrusted with the care of someone's beloved pet when they need the support of veterinary professionals. As a manager for most of my career, to be able to inspire and mentor  new vet techs, vet assistants, and pre-vet students to be all they could be was so amazing. Now to have come full circle in my career and be back on overnight shifts personally providing exceptional nursing and medical care as well as compassionate care is still as rewarding as ever. Working in a team environment and knowing when my shift is over, the patient's care is passed on to others who also strive for excellence, [and this] lets me leave my job empowered, energized  and confident that the pet is in good hands. My simple mantra for all these years has been to treat every pet as though it is my own. Sometimes people ask me if being in this profession for so long is exhausting—but to me it has always been exhilarating! The added bonus of being at a teaching hospital and seeing so many vets grow and become boarded is just the icing on the cake for me! It takes a real team to provide exceptional veterinary care, and I feel blessed to have been part of that team since 1974.
We invite you to stay tuned to our blog, where we will be sharing the in-depth Q&A sessions we held with the contest's remaining finalists. To learn more about the Why I Love Being a Vet Tech Contest, click here. The contest winner will receive a one-year NAVTA membership and a paid trip to the 2016 North American Veterinary Community Conference. You may vote here for Anne Marie or any of the other finalists once a day through Thursday, September 17th.