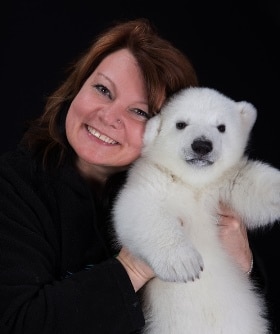 At Pets Best, we recognize that the veterinary industry is largely powered by the hard working and dedicated certified veterinary technicians across the nation. To acknowledge their tireless efforts, we created the Why I Love Being a Vet Tech contest, now in its second year. In partnership with the National Association of Veterinary Technicians in America (NAVTA), we are pleased to announce the top eight finalists for 2015.
Meet Alice Rohauer. Of the past 31 years Alice has worked as a vet tech, she has spent the last 28 working with exotic animals at the Buffalo Zoo in New York.
She is also a pet parent to four rescue dogs: Cooper, a senior German shepherd mix who needed a home when his previous owner passed away; Rocky the Rottweiler, the lone survivor of his litter; Duke, the special needs Labrador mix from a shelter in Virginia; and Dingo, a terrier/Chihuahua mix Alice calls her "snuggle bug".
Read on to learn more about Alice and her contribution to the veterinary community.
Why did you choose to become a vet tech?
I have always had an interest in animals, especially the exotics. I made the decision at a very young age that a career in the veterinary field is what I wanted to do with my life. I have a feeling of purpose and pride knowing that I have given my best each and every day to care for and provide the medical attention that animals need and deserve.
If you could improve upon or change one thing about the veterinary industry, what would that be?
I believe there is always room for improvement with client education. The more information and options that can be provided to the client will help with making the best decision for their pet's health and welfare.
Tell us why you enjoy being a vet tech.
I have enjoyed every minute of my career. Every day is still a learning and rewarding experience and I love doing my part in the education about and conservation of the multiple species I work with. From the very small to the mega mammals, each species is very important and I feel honored to be able to offer assistance in contributing to their continued survival. At the end of every day I feel very blessed and satisfied to have contributed to the health and welfare of these beautiful animals.
We invite you to stay tuned to our blog, where we will be sharing the in-depth Q&A sessions we held with the contest's remaining finalists. To learn more about the Why I Love Being a Vet Tech Contest, click here. The contest winner will receive a one-year NAVTA membership and a paid trip to the 2016 North American Veterinary Community Conference. You may vote here for Alice or any of the other finalists once a day through Thursday, September 17th.