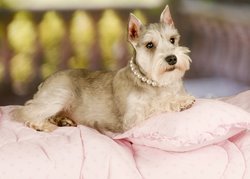 A new hotel is opening in Fort Worth, Texas later this month that will boast custom beds, satin blankets, and flat screen TVs—but the hotel isn't for humans, it's for pets.
According to the Wall Street Journal, the $4.4 million hotel, called the Spa Paws Hotel, will offer pet facials, turn-down service and bottles of Evian water.
"There isn't another hotel like this. It's a hotel like you and I would stay in," hotel owner Janice Ford Grimes told the source, adding that pet health will also be a primary focus.
Ford Grimes told the news provider that pets will be able to enjoy a wellness center that will offer Eastern medicine to ensure exquisite cat and dog health care.
While many people consider dog and cat insurance to be the up-and-coming pet trend, Ford Grimes wants to push the envelope even more.
The hotel owner plans to host pet weddings and birthday parties and guests will even be able to sit for a portrait by a professional photographer.
Ford Grimes told the news provider that the part of the hotel she's most passionate about is the wellness center, which is inspired by Ford Grime's cat Dakota, who died of a serious pet health condition—a brain tumor.
With rooms costing around $200 per night, Ford Grimes thinks animal lovers will see her pet hotel is worth every penny.
"Ford Grimes is prepared to subsidize the clinic with earnings from the hotel," the Wall Street Journal reports. "Her business plan has her making money within the first six months with occupancy at the hotel and salon."
With Ford Grimes' pet hotel opening its doors—pet health and luxury will never be regarded the same.