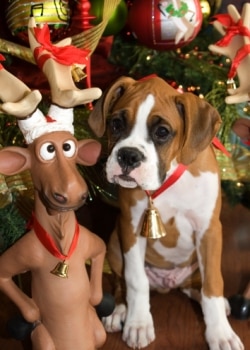 Pets Best releases annual list of bizarre, expensive claims
BOISE, Idaho – Pets Best Insurance Services, LLC, a leading nationwide pet insurance agency, today released a list of its most bizarre holiday-related claims. Since opening in 2005, the agency has processed a host of surprising claims stemming from unusual holiday hazards.
"The holiday season is filled with trappings that people love, like decorations, desserts and bustling crowds. Unfortunately, there are many aspects of these celebrations that can threaten our pets," said Dr. Jack Stephens, founder and president of Pets Best. "We strongly encourage pet owners to consider the safety of their curious and hungry animals during any preparations with decorations and food."
These are a few of the more bizarre holiday-related claims Pets Best has processed, some of which might even shock the Grinch:
Ornamental Distress
Many dogs and cats are tempted to sample shiny Christmas tree decorations, and a 19-week-old Boxer puppy named Laila was no exception. Last December, the puppy downed a glass ornament, resulting in an exam, X-rays and a hospital stay. The bill reached more than $600. Pets Best reimbursed 80 percent of the claim, after the deductible.
Antler Fix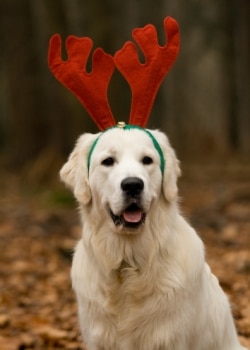 Santa's reindeer might want to watch what they leave behind. Maggie, an 8-month-old Golden retriever, faced a slew of procedures after swallowing a large piece of antler bone. After the puppy's initial visit to the veterinarian, which involved an exam and X-rays, she was referred to a veterinary specialist to have the antler surgically removed from her stomach. Pets Best reimbursed Maggie's owner more than $2,500.
Bad Dough Rising
Sasha, a 3-year-old Shetland sheepdog, faced an emergency trip to the veterinarian after consuming bread dough last December. This basic food item can be toxic to dogs and cats, as it expands in their stomach and causes the organ to twist. The yeast can also result in alcohol poisoning. A veterinarian performed an exam and X-rays on Sasha, and also provided anti-nausea medication shots. Pets Best reimbursed 80 percent of the claim, after the deductible.
Scrumptious Santa
A 7-year-old mixed breed dog named Jasper decided to fill himself with the holiday spirit by gorging on a Santa costume. After swallowing some of the suit's fluffy stuffing, however, Jasper's behavior struck his owners as a little off. The subsequent trip to the veterinarian involved a gastrointestinal blood panel. Pets Best reimbursed 80 percent of the claim, after the deductible.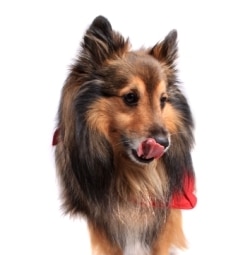 A Little too Corny
Corn is a staple of many holiday feasts, but pet owners should make sure it stays on the dinner table. When a 9-month-old mixed breed dog named Cooper ate a corncob, he was rushed to the vet for an exam, blood panel and surgical removal of the cob. That single corncob resulted in a bill totaling nearly $1,295.  Pets Best reimbursed 80 percent of the cost, after the deductible.
For more information about the plans offered by Pets Best, please visit www.petsbest.com.
*Different deductible amounts and reimbursement percentages may apply based on the plan selected. The claim examples refer to conditions that are not pre-existing. Actual reimbursement amount may vary based on whether deductible has been met or whether veterinary fees included taxes and other non-covered expenses. Claim administration is subject to all terms, conditions, limitations and exclusions in the policy.
About Pets Best Insurance Services, LLC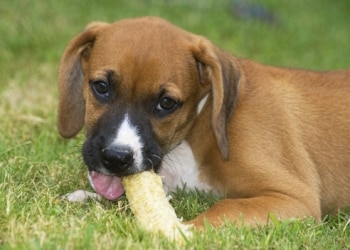 Dr. Jack L. Stephens, president of Pets Best, founded pet insurance in the U.S. in 1981 with a mission to end euthanasia when pet owners couldn't afford veterinary treatment. Dr. Stephens went on to present the first U.S. pet insurance policy to famous television dog Lassie. Pets Best provides coverage for dogs and cats and is the only veterinarian founded and operated pet insurance company in the United States. Dr. Stephens leads the Pets Best team with his passion for quality pet care and his expert veterinary knowledge. He is always available to answer questions regarding veterinarian medicine, pet health and pet insurance. The Pets Best team is a group of pet lovers who strive to deliver quality customer service and value. Visit www.petsbest.com for more information.
Pet insurance coverage offered and administered by Pets Best Insurance Services, LLC is underwritten by Independence American Insurance Company, a Delaware insurance company. Independence American Insurance Company is a member of The IHC Group, an organization of insurance carriers and marketing and administrative affiliates that has been providing life, health, disability, medical stop-loss and specialty insurance solutions to groups and individuals for over 30 years. For information on The IHC Group, visit: www.ihcgroup.com. Additional insurance services administered by Pets Best Insurance Services, LLC are underwritten by Prime Insurance Company. Some existing business is underwritten by Aetna Insurance Company of Connecticut. Each insurer has sole financial responsibility for its own products.
Pets Best is a proud member of the North America Pet Health Insurance Association (NAPHIA).
###