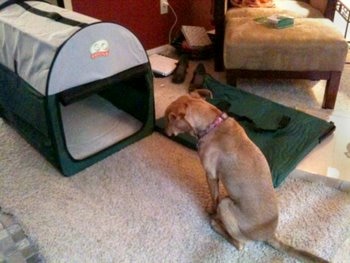 By: Chryssa Rich
Pet Insurance Marketing Associate
Last summer, my dog was a great camper for the most part. She'd swim and hike all day, then pass out next to the campfire every night.
But mornings were another story. After crowding me off my little air mattress all night, Jayda would be up at dawn, pushing her forehead against the tent seams trying to get out. Don't get me wrong – I love crisp mountain air as much as the next person, but not at 5:45 AM.
The only way to appease Jayda during these early morning hours was to tie her to a tree outside my tent, where she'd shiver like crazy and bark at every little sound, thus waking the entire campground. I knew I needed a different solution for this summer.
Because I work for a pet insurance company and I'm familliar with the pet industry as a whole, I was able to do some quick online research and I stumbled upon a category of kennels I didn't even know existed – the soft-sided pop-up kind.
Ideal for travel, these kennels collapse to be almost flat and usually come with handy carrying cases. For small breeds, you might even be able to find one that folds small enough to fit in a purse.
Here are 5 ways to make sure a soft-sided kennel will work for you:
1. Crate Train Your Dog
The flexible fabric structure of a pop-up kennel can't take the scratching, clawing or chewing of a nervous pup or an anxious dog, so you'll need to make sure your dog is crate trained and will behave in a kennel. If your pet has anxiety or behavioral problems, it's a good idea to look for a pet health insurance company that will offer limited coverage for behavioral issues.
2. Get the Right Size
As with any kennel, make sure your dog has room to stand up and turn around comfortably.
3. Find the Right Features
Because I need Jayda to sleep in while camping, I made sure to choose a kennel with dark, opaque fabric and windows with covers. I also made sure the carrying case was designed with handles. For vehicle use, look for a kennel that can be strapped to the seat using a standard seat belt.
4. Make Sure it Fits
If the new kennel is to be used in a car, truck, camper or tent, open it completely and make sure it fits before you hit the road. Also, make sure the kennel won't block the driver's visibility.
5. Introduce Your Dog Slowly
To get Jayda used to her new kennel, I brought it into the living room a couple of days before our first camping trip. I filled it with her bedding and hid treats inside, and by the end of the evening she was comfortable walking all the way in without any prompting from me.
Jayda still whined a bit in her new kennel on our first camping trip this year, but overall it was much better than letting her jump around inside the tent. Once she's fully comfortable with it, I know the new kennel will be a big help for every overnight stay away from home.