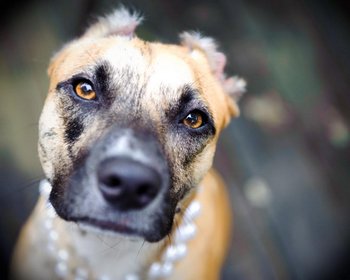 By: Donna Lawrence
Guest Blog for Pets Best Insurance
In my home state of North Carolina, the strictest penalty someone could get for animal cruelty was under willful destruction of property. That was until 2010 when Governor Bev Purdue signed Susie's Law, known as S.B 254 and H.B. 1960, into law.
It is now a Class H felony to maliciously kill or torture an animal here. The story is so unique, there is a movie that is in editing right now that could be released this fall about how it all happened. The working title is Susie. This is all because of my dog, Susie.
But I'll start at the beginning: I love dogs. I always have.
In 2008, I was attacked by a neighbor's neglected dog when I was trying to feed him. My injuries were severe— I nearly lost my life. It wasn't the dog's fault, though. He had been severely neglected, starving literally and figuratively. The poor thing had been tied up in the yard crying for days.
About a year later, a badly hurt puppy was found in a park. She had been hiding under some bushes, fearing for her life. Ten days earlier, her owner had abused her horrifically: her jaw was broken, teeth were knocked out and she was set on fire. Her ears were all but gone when she was found, and there were burns over 60% of her body.
She was taken to the animal shelter. She had a long road to recovery ahead of her, but, though she didn't know it yet, she was about to make some very good friends. She would never have to endure something like this ever again, and she wouldn't be alone while she healed.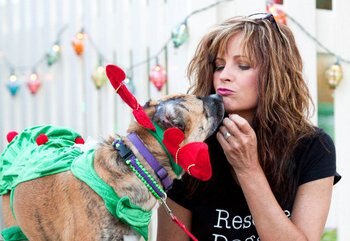 Her story made the local news while Susie was still with the vet, and the community rallied around her. The animal shelter received calls all night offering money for the operations necessary to save Susie's life. Susie needed a lot of care and attention and, especially after such a horrific event, much love. I eventually adopted her after seeing to both our recoveries.
Then came her previous owner's trial. As I mentioned above, the stiffest penalty the judge could give the criminal was destruction of property because it wasn't his dog. This was unacceptable— there's never any reason to hurt a pet, let alone do what was done to Susie. I found four other like-minded animal lovers and we started to push, with Susie at our sides, for reform in North Carolina's animal cruelty laws. Susie's Law passed with flying colors in 2010. Susie even got to sign the bill with her paw print!

Or Call 877-738-7237 to speak with a Pets Best Insurance Agent to Add a Pet to Your Current Policy
With all the support, I started a non-profit group, Susie's Hope. Susie and I go to schools to talk to school children about how to treat animals. Considering what happened to her, Susie is great with the kids, and they like her a lot, too. Susie also became a therapy dog for burn victims, helping them work through the same pain she had to work through.
And then our story attracted the attention of filmmakers. Just this spring, the movie was filmed and it's in editing right now. The cast and crew have an impressive resume, and I'm really happy with how everything looked during the shoots. It's a really unique movie because of our story, but there's another part: a percentage of the proceeds go to our nonprofit so we can continue our important work.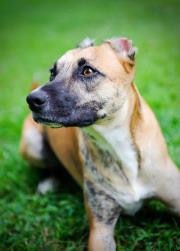 Jerry Rees, who has directed several films for Disney, is the director, and Emmanuelle Vaugier, from Two and a Half Men and CSI NY, stars. I hope you'll get a chance to see it this fall, but, if you want learn more about it or donate to Susie's Hope, you can visit our website.
We went from being victims to living a victorious life. We are proof that through love, hope and forgiveness, one person and one animal can make a huge positive difference in the world—finding Susie and helping her was good for both of us, and we're spreading the message as far as we can. It's so important to treat your pets like the family members they are, and I'm blessed that our story, and our message, can reach so many more people.