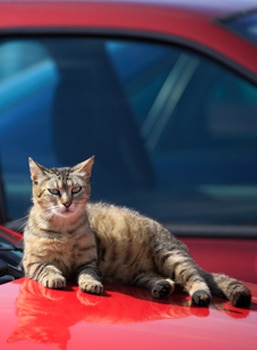 When I found my cat Luisa on the streets of Mexico more than a decade ago, I knew I was making a lifelong commitment, regardless of where my adventures took me. Little did I know we'd see two countries, three states and nine different homes together, with her daughter kitten Monica in tow as well.
This all happened long before I knew about cat insurance, but it sure would have been helpful at the time! Here's what I remember most about our adventures.
Funniest Moment
A delayed flight landed us in Texas in the middle of the night. I couldn't get into my new apartment, so my brother and I took a taxi to the nearest hotel. It was lovely, pricey, and not pet-friendly. The hot weather left us just one option.
We rolled a baggage rack to the car, put the cats (in their carriers) in the middle and surrounded them with suitcases. Fingers crossed, we pushed that cart and ran like mad through the lobby to the elevator. Luisa didn't make a sound till the elevator doors closed, then – "meow?"
Now, I certainly don't condone breaking hotel rules, but in this case, we really had no other options. And a recent Facebook poll on the Pets Best Insurance page revealed I'm not alone. The vast majority of respondents said they had either sneaked pets into non pet-friendly hotels, or would if it was necessary.
Second Funniest Moment
It was a lazy Sunday morning and we had checked out of our motel in a tiny town. IHOP was our only breakfast option, but it was already too hot to leave the cats in the car. I sweet-talked the hostess into letting us bring them inside, as long as they stayed in their carriers in the lobby. We grabbed a booth nearby and had quite a few good laughs watching families wander in, then jump a little when they noticed the cats' glowing eyes. "Are those cats?! Whose cats are those?"
When a Girl's Gotta Go…                                                                           
We were in a pinch without a litter box, so I found an extra garbage bag in a public restroom, cut it open to cover the largest area possible, then sprinkled a little litter over the bag. It worked like a charm! The cats knew where to go and the floor stayed clean.
On an airport layover on a different trip, I put a leash on my cat and let her out of her carrier to walk around. She immediately jumped into a giant potted plant, pawed the fake dirt, squatted and peed. All I could offer was an apologetic shrug to the passing patrons starting at us.
Scariest Moment
On a road trip from Austin to Los Angeles, the alternator in my car started to go out, taking the air conditioning with it. In the desert. In June. In 114-degree weather. Unfortunately, the tow truck that rescued us didn't have air conditioning either.
On our way to the next town, my cats rolled over on their sides, closed their eyes and began panting heavily. I was in tears, sure they were going to die, and begged the driver to pull over at the very first business with air conditioning. Thankfully we made it, and one new alternator and dip in the pool later (for me), we were on the road again.
Quick Tips for Traveling with Cats
1. Book your flights early – many airlines only allow two pets per flight
2. Set travel crates out for a few days before the trip, so cats can get used to them
3. Offer the same food and provide the same cat litter as always
4. Get a flea preventive on your cats – mine got fleas from pet-friendly hotels
5. Get cat insurance that can be used anywhere in the world and reimburses based on your actual vet bill, like Pets Best Insurance plans do.
Have you traveled with cats? Share your most memorable moments in the comments below!