By: Dr. Jack Stephens, DVM
Pets Best Insurance President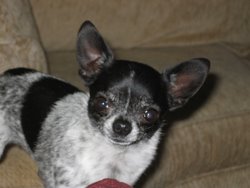 My teacup Chihuahua Torrey and I will soon be departing for the annual American Veterinary Association convention—not only has Torrey become a regular attendee, but she's become quite the pet insurance promoter.
Traveling with pets requires extra planning and cost, especially when traveling by air. Despite her doggie carrier being stowed under the seat, costs to fly with pets are on the rise. For that reason, Torrey's travels and my frequent flyer miles have recently been on the decline.
In addition to booking our flight early and ensuring I'm abiding by the airline's pet guidelines, I also have to remember to check with the hotel to make sure they are pet friendly.
For cross-country flights, I pack a water bottle, a bowl, a blanket for naps in the hotel room and a few of Torrey's favorite treats. Also, I always bring along her favorite canned food and store it in the mini fridge, although she much prefers room service menus that include chicken.
My conference schedule is set to ensure Torrey has adequate time for bathroom breaks. Fortunately, I have her trained to use paper should I take too long at dinner or social events where she's not invited (we don't want yipping any time someone asks to pass the salt.)
During these conferences we meet with veterinarians, technicians and hospital managers to tout the benefits of pet insurance. We also request feedback from the attendees to ensure our pet care insurance is the best it can be for our policy holders.
Despite her expected territorial "Chihuahua" behavior, Torrey is generally well-received by passersby at our Pets Best Insurance booth. For many attendees, interacting with Torrey is an annual routine- and a quest to see if they can befriend her, this time, without too much of a Chihuahua fuss.
Torrey and I are both looking forward to the upcoming convention. When she sees me pull out her travel bag, she runs around in excitement, even pawing at the bag until I let her inside.
Even though Torrey makes a bit more work for me when I bring her along on business trips, in the end, her companionship is worth it and I can't imagine having a better travel buddy.