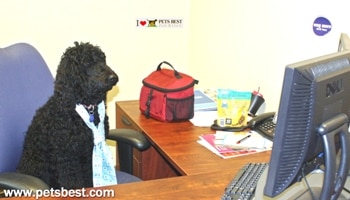 At Pets Best Insurance, we believe in bringing your dog (or any pet!) to work with you. Here are our Top 7 Reasons to Bring Your Dog to the Office.
1. They won't be doing the potty dance waiting for you to get home.
2. You don't have to pay for doggy day care.
3. You get a mental break and fresh air during their potty breaks (as long as you're up wind).
4. They make awkward noises and instantly lighten the mood.
5. You can blame that smell on your dog.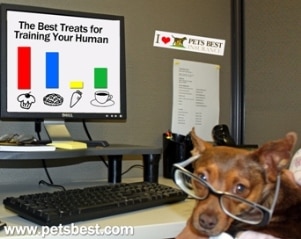 6. Your boss just might throw you a bone!
7. Need a smile, just look at their face.
Enjoy these photos of Pets Best Insurance employees' dogs hard at work in the office!
Top: Stella concentrates hard, while trying to not get distracted by the lunch bag of goodies taunting her.
Bottom: Moe says, "Excuse me, I'm trying to get some important work done here."

Get a Quick, Free Quote Online or
Call Pets Best at 877-738-7237
"Take your dog to work day" was started by Pet Sitters International in 1999.