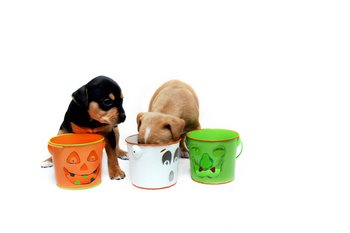 By: Liam Crowe
Bark Busters CEO
Guest Blogger
For Pets Best Insurance
While many of us revel in all the spooky and unusual events Halloween brings, these unfamiliar happenings can quickly become a real nightmare for our canine companions. It's a great idea to have dog insurance for your pet in the event of a holiday mishap, but the below are some tips to make sure this Halloween is full of treats, not tricks, for your dog.
TRICK: Leaving your dog out in a fenced yard during trick-or-treat festivities. It is often a natural instinct for dogs to protect the family from strangers, and there will be plenty coming and going on Halloween.
TREAT: Bring your dog inside so you know he and visitors to your home will be safe. If your dog usually stays outside, bring him in a few times before the big fright night to get him used to being inside— sudden changes can put more stress on your dog.
TRICK: Allowing your timid or over-exuberant dog to help answer the door. Whether your dog is wary of newcomers or wants to cover everyone who rings the doorbell with kisses, this creates a potentially dangerous situation for your dog and your guests.
TREAT: Create a safe place you can direct your dog to go anytime he is overwhelmed by visitors or household hubbub, such as a crate, pillow or bed. During trick or treat hours, it is best to keep him in a separate room away from the front door to limit his excitability, aggression, and chance of running outside and becoming lost.
TRICK: Giving your dog an unusual amount of attention if he is stressed by Halloween activities.
TREAT: The best thing you can do for your dog when he is feeling unsettled is to act normally. By over-reassuring your dog, you can inadvertently communicate to him that because you are acting differently, there must be something to worry about.
TRICK: Showing off your family's new costumes to your dog. He may see you as strangers if you don your costumes without warning.
TREAT: Before you or the kids put on your costumes, allow your dog to scent them. Keep any masks off when you are with your dog, as dogs can become confused and stressed when they can't see our faces.
TRICK: Not leaving ID tags on your dog at all times.
TREAT: With all the extra commotion and comings and goings, be sure identification tags are secure on your dog's collar—just in case. And pet health insurance is an option that can give you even more peace of mind, knowing that you will be able to take care of any injuries that could occur if your dog was to run away in fear.
TRICK: Placing lit jack o' lanterns at dog-level.
TREAT: Excited or stressed dogs (and their swinging tails!) can easily knock over a lit candle or pumpkin. While you'll want to avoid this altogether, it's a good idea to have dog insurance in case of any holiday accidents. Be sure to keep all jack o' lanterns out of your dog's reach, or consider a battery-powered candle that does not burn. It is also a good idea to allow your dog to see and scent carved pumpkin decorations before dark, without the candles. Those ghoulish faces can look very scary, especially from a dog's eye view in the dark.
TRICK: Forcing your dog to wear a Halloween costume.
TREAT: Experiment before Halloween to see if your dog likes being in a costume. If so, fine— he'll most likely enjoy himself and the extra attention his new look brings! However, if he shows any resistance, don't force him to spend an already stressful night in discomfort. Try a fancy collar or a bandana around his neck instead.
If you want to include your dog in Halloween festivities, just be sure you think first about his safety and emotional stress level—much like you would for a small child. Your dog does not instinctively understand Halloween, and he needs you to provide guidance and safety measures to keep it a night full of fun, not fright. For more training tips, visit Bark Busters.
For more pet health and behavior tips, visit www.petsbest.com.