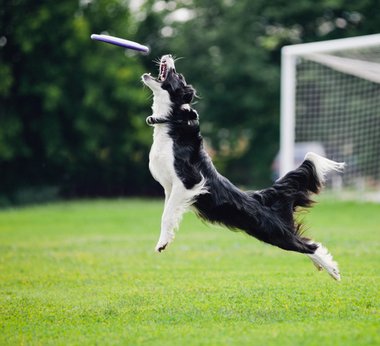 Does your dog love to perform and be in the spotlight? In light of the recently wrapped-up Olympic Games, Pets Best Insurance took a look at the Top 5 Dog Sports and to recognize the amazing talents of these furry competitors. Sports in the dog world can be stressful on both dog and handler, and can take months of preparation leading up to a competition. These active dogs are loved by their owners and spectators of their respective sports, and routinely capture our attention as they race, flip, leap, and yes, even surf.
1. Dog Surfing
Hanging ten isn't just for beach bums any more when these hot doggers take to the water. The sport of dog surfing hasn't been around very long, but the popularity of the sport has grown immensely! According to Discovery News, healthy dogs that naturally take to water have the potential for greatness on the board, and many of these cool canines belong to owners who love to surf as well. Dog Surfing is just one more way for pets and owners to have fun on the water.
2. Frisbee Competitions
Frisbee often brings to mind images of a relaxing day at the park, tossing a disc around with a few friends. This would be a fair assessment if these high-flying canines weren't invited to the party. These dogs' ability to chase, twist, flip, and catch these flying saucers is an incredible display of athleticism. Competitions exist for most acrobatic catches to routines performed by dog and owner. One thing is for certain, these dogs have skills!

Or Call 877-738-7237 to speak with a Pets Best Agent to Add a Pet to Your Policy
3. Dock Jumping
Jumping into a pool is a great way to cool off for most folks, but these pooches work themselves into a frenzy chasing their favorite toys off of a long runway and into the water. According to the New York Times, there are a few organizations that hold competitions inviting these athletic canines to jump their way into the record books with some dogs jumping over 25 feet!
4. Agility Courses
Agility courses are a fast paced event where dogs race against the clock to see how fast they can overcome obstacles and jumps with just commands from their handlers. These events are extremely exciting to watch as both dog and handler move about the obstacles with incredible speed and accuracy. The anticipation and excitement in these dogs' eyes as they prepare to race through these obstacles and through the finish line can almost tell an entire story itself.
5. The Iditarod
Sled Dog Racing is no small feat, and these highly specialized dogs prove they belong in the top spot of our Top 5 Dog Sports. According to Iditarod.com, "The Last Great Race" began as a freight route from Anchorage to Nome, Alaska, and has since turned into one of the biggest races in the world stretching over 1100 miles! The race takes place during winter and is a test of both mental and physical tenacity on both the dogs and the mushers in the race. These dogs are well suited for the cold with their thick fur coats and love for running.
Keeping safety in mind and knowing that dog insurance can come in handy, can provide owners with a great way to have fun with their pets. From cool to challenging, these pets are great at what they do and love to show off! But these are just a few sports that dogs compete in– there are countless others which begs the question, "What sports do your dogs 'Go for the Gold' in?"