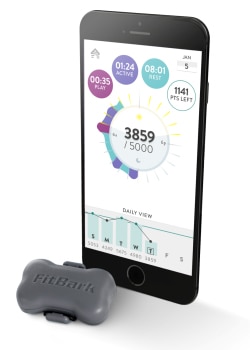 By Therese Pope for Pets Best, a pet health insurance agency for dogs and cats. Pope is a freelance writer based in California.
Looking for those perfect gifts and stocking stuffers for special fur family members and pet lovers? Check out these fun, innovative holiday pet gifts for 2015. Our top 10 favorite picks are below.
1. FitBark – Dog Activity Tracker
Kick off the New Year on a healthy note! If you enjoy taking your dog on runs or walks, FitBark is perfect for active pets and owners. Link your Fitbit with FitBark and monitor your dog's daily activity levels and compare with your daily fitness goals. The beautiful, bone-shaped sensor tracks your dog's daily physical activity and converts it into BarkPoints as a way to monitor their fitness progress. The FitBark also keeps a close eye on your pet's overall health patterns. This is helpful for pets that need to lose weight or need to maintain a certain exercise level.
You can purchase one at www.fitbark.com.
2. ThunderShirt
The ThunderShirt vest helps calm and relax dogs and cats. If you haven't had any luck with training or medication, ThunderShirt is a great option for pets who suffer from anxiety, fear and over-excitement issues. The vest applies a gentle, constant soothing pressure similar to swaddling an infant.
Pets Best has secured an exclusive discount for customers at ThunderShirt. Save 10% on your order with the code PETSBEST10. It can be used from now until Dec. 31 at 11:59 PM PST.
Visit their website at www.thundershirt.com.
3. BarkBox
A box of dog goodies delivered to your door each month on the 15th. Each BarkBox will include a new combination of fun toys, healthy treats, and innovative gadgets for your pup. It's a great way to test out new products to find things your dog loves. And it's the gift that keeps on giving all year long!
You can sign up for your monthly subscription at www.barkbox.com.
4. Outward Hound Dog Gear
Outward Hound Dog Gear makes the perfect gift for playful, curious pups who love
adventures. Outward Hound designs interactive and innovative toys, games, puzzles, and travel products that keep dogs active and engaged.
Outward Hound is offering an exclusive discount to Pets Best customers, save 30% on your order with promo code PETSBEST (one-time use). Shop their online store at www.outwardhound.com.
5. P.L.A.Y.'s Cat Collection & Dog Bed Cover
Spoil and pamper your fluffy felines with P.L.A.Y.'s Cat Collection. Their eco-friendly products combine both fun and luxury. Check out their durable Chill Pads and cozy Snuggle Beds. Place them by your cat's favorite lounging spot so kitties can snooze in style. For active kittens, P.L.A.Y.'s versatile scratchers offer multiple alluring angles to scratch while fun, whimsical tunnels entertain cats for hours.
Pets Best customers get a discount on the Cat Collection. Save 25% when you use code PETSBEST25 at checkout (www.petplay.com/cats).
Tired of plugging your nose every time you walk by your dog's smelly bed? With P.L.A.Y's Change-a-Cover, your dog will feel like he's sleeping in a brand new, clean bed. Stuff the cover with old blankets and clothes for a comfy, cushy bed for sleepy pups. With its colorful, stylish designs, you not only save money but reduce waste by recycling your blankets and towels.
Pets Best customers save 40% on a new Change-a-Cover purchase, use code PETSBEST40 at checkout (www.petplay.com).
6. Kitty Kaddy Double Diner Bowl
If you're a senior pet owner or have mobility issues, the Kitty Kaddy Double Diner Bowl makes feeding your cat easy and pain-free. The Kitty Kaddy features a detachable, 27-inch high handle that helps lift the bowls without bending down. The detachable stainless steel bowls make them easy to fill and clean. Each bowl holds approximately one cup of food and water. Choose from the longer Double Diner Bowl or the Mini Kitty Kaddy with a short, easy grip handle. Kitty Kaddy's products are made in the USA.
Shop at kittykaddy.com.
7. FroliCat Interactive Laser & Toys
If your pets are bored with the usual squeaky toys, they will be entertained for hours with FroliCat's Interactive Laser & Toys. These fun techie toys are designed to engage both cats and dogs in interactive, enthusiastic play. As pet parents, you'll enjoy watching your pets run, jump and pounce as they try to catch lasers and chase an electronic mouse. Their products are designed and tested by pet trainers and animal lovers dedicated to creating pet-friendly solutions.
You can visit their website at www.frolicat.com/products.
8. Krebs Recycle Climbing Rope Dog Leash
Sometimes dog leashes aren't that sturdy and tend to fray and wear out fast. Eliminate flimsy leash issues with Krebs Recycle Climbing Rope Dog Leash. Their dog leashes are made from sturdy, durable recycled nylon climbing rope. The ropes are "upcycled" and are used in their original form so there is no waste. The quality ropes come from climbing gyms and rope manufacturers across U.S. and Canada. Popular leashes include the 6 ft. Reggie Leash or the 4 ft. Ruby Leash. They also offer heeler and trainer leashes (available in different sizes).
Visit their store at www.krebsrecycle.com.
9. Olive Comfy Pup Organic Dog Blanket
After a chilly day playing outside in the cold, your dog will love to cuddle up by a warm fire with an Olive Comfy Pup Organic Dog Blanket. This American-made soft, cuddly blanket is grown and made from organic cotton minus pesticides, herbicides and chemicals (no dyes). This versatile dog blanket can be used in the car, on furniture, or wherever your favorite fur ball likes to snuggle and sleep. The blankets are also machine washable.
Shop this product at olivegreendog.com/olive-comfy-pup-organic-dog-blanket/
10. CritterZone Air Naturalizer
Your family, including pets, will greatly benefit from CritterZone's Air Naturalizer, especially if they suffer from allergies. The compact unit doesn't require filters and virtually eliminates odors, allergens, dust, and bacteria in your household. The unit is eco-safe and produces a natural ionic flow that gives indoor air the energy needed to restore itself.  The powerful unit also eliminates strong odors (i.e. urine) stuck in carpets and furniture, and can be placed near litter boxes. The CritterZone Air Naturalizer is a wise investment for pet parents, especially if you have multiple pets that live indoors. CritterZone also offers a 30-day money back guarantee.
Visit their website at critterzoneusa.com.
*All photos courtesy of each listed brand's website.
Like This Article?
Our Best Content, Delivered Monthly