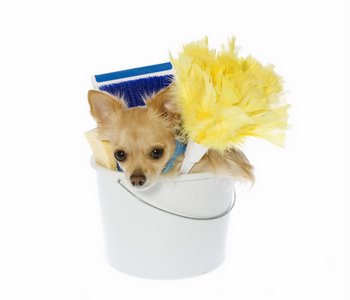 By: Dr. Fiona Caldwell
Idaho Veterinary Hospital
For Pets Best Insurance
Animal lovers and pet insurance enthusiasts alike have probably noticed that the days are finally getting longer, which can only mean on thing. Spring is finally here! So put that extra sunlight to good use by doing some spring cleaning that involves your pet!
Instead of standard dust bunny clearing, mopping, and scrubbing the bathroom, what about spring cleaning your pet? Here are some ways to do just that, while keeping your pets safe and happy.
Spring clean by focusing on your pet's outsides AND insides. Grooming can be a regular part of getting spring-ready, but even if your groomer will brush your pet's teeth, this generally isn't enough. Pets need to have their teeth professionally scaled and polished regularly, just like we do, in order to prevent periodontal disease. Consider making an appointment with your veterinarian to determine if your cat or dog should have this important procedure performed this spring.
A good springtime wellness exam with a veterinarian should be an annual part of your routine wellness care. A physical exam can uncover potential underlying disorders you weren't aware of. Most veterinarians agree that having your pet's internal function 'examined' as well by performing blood work should be a routine part of a senior pet's annual care. Some pet health insurance companies, like Pets Best Insurance, even offer a wellness care package, to help make the best care more affordable.

Or Call 877-738-7237 to Add a Pet to Your Current Policy
This can help your veterinarian get an early start treating such disorders as chronic kidney insufficiency and other diseases common in aging animals. Having a cat or dog insurance policy in place early on, may help with the associated pet health costs.
Annual pet spring 'cleaning' should also include any vaccinations due and deworming as well. Did you know that many canine and feline internal parasites can be transmissible to people? Especially in households with young children, at least annual deworming should be performed to keep your pet and your family healthy.
This spring, take the time during your annual cleaning to include your furry family members and consider their health. This can mean using pet safe cleaning products around the house, and important annual pet health check ups.