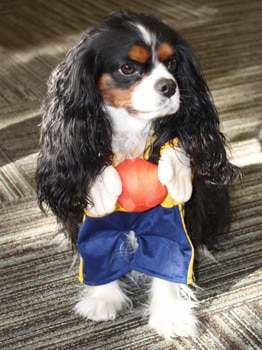 Halloween is such a fun holiday, it's only natural we want to share it with our pets. Unfortunately, most traditional Halloween activities aren't pet-friendly or pet safe. So, what's a costume-loving pet owner to do? Here are three fun ways you and your pets can celebrate goblins and ghouls this October.
Community Events
Check with your local shelters and pet charities, and you'll likely find all kinds of pet-friendly Halloween events. From costume contests and photo shoots to parades and parties, they're safe for pets and typically benefit pet-related causes. If you have a few hours to spare, consider volunteering as a co-host to make the job a little easier for everyone involved.
Special Homemade Treats
Classic Halloween treats like chocolate and raisins are toxic to dogs, so be sure they're not within reach of your pet. Instead, whip up some homemade healthy treats for your pup. Here's a delicious peanut butter and pumpkin recipe we love from Allrecipes.com. The dough can be cut into any shape, so get out those Halloween cookie cutters!
Ingredients
Makes 25 treats
2 1/2 cups whole wheat flour
2 eggs
1/2 cup canned pumpkin
2 tablespoons peanut butter
1/2 teaspoon salt
1/2 teaspoon ground cinnamon

Directions
1. Preheat oven to 350 degrees F (175 degrees C).
2. Whisk together the flour, eggs, pumpkin, peanut butter, salt, and cinnamon in a bowl. Add water as needed to help make the dough workable, but the dough should be dry and stiff. Roll the dough into a 1/2-inch-thick roll. Cut into 1/2-inch pieces.
3. Bake in preheated oven until hard, about 40 minutes.
Throw a Party
If you can't find a party, be the party! Invite your dog's friends to come in costume for a an afternoon of playing and special treats. Pick up a couple of dog toys for costume contest prizes, and for goodie bags, place a few treats in cellophane bags and tie with Halloween ribbon. You can learn more pet party tips on our birthday blog.