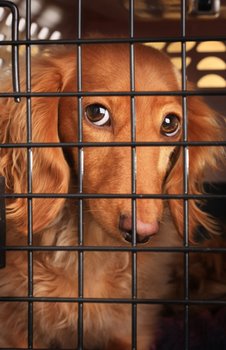 As October's "Adopt-A-Shelter-Dog month" comes to an end, shelters are urging the public to consider adoption. According to a recent study by the National Council on Pet Population Study and Policy, the number of cats and dogs entering shelters each year is approximately 6 to 8 million. Of those animals, only 3 to 4 million are adopted, leaving 3 to 4 million animals euthanized each year.
The most common reason for surrendering a dog to a shelter is that the owner is moving. Other reasons include too many animals in the house, cost of pet health, and not having time for a pet. Surprisingly, behavior problems ranked last on the list.
There are several things to consider before adopting a dog from one of your local shelters. You should first consider the ages of the people in your household. This will help you determine the size of dog you should choose. For example, families with small children would generally do better with a smaller dog.
Before adopting, it's also important to make sure that you have the time necessary to dedicate to caring for a dog. Do you have time to walk and train your dog every day?
Finally, consider how much money you can spend on the dog. Take into consideration adoption costs, routine yearly dog health care and the dog's food and supplies. There are also unforeseen costs, such as taking an emergency trip to the vet after an accident or illness. It's also a good idea to consider purchasing pet health insurance.
Make sure when you are making the decision to adopt a puppy or an adult dog, that you are committed to providing the dog with a loving home for the remainder of his life.