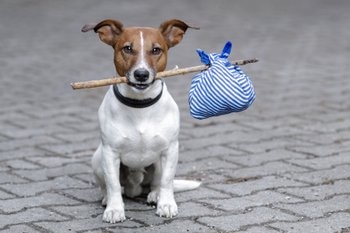 By Chryssa Rich
For Pets Best Insurance
This week is National Pet ID Week, which is a great time to evaluate the best ways to keep your pet safe with identification! Nearly every cat or dog is capable of wandering off or running away when the mood strikes, so here are three best tips from Pets Best Insurance to ID your pet.
1. Update Your Pet's Name Tag
Take a look at your pet's name tag right now – there's a good chance it's outdated, worn down or maybe even missing completely. When we move or change cell phone numbers, pet tags often don't get updated. And the surfaces get dinged up pretty quickly. Just a few months of scratching and playing can make the details on your pet's name tag unreadable.

Or Call 877-738-7237 to Add a Pet to Your Current Policy
When choosing a new tag, look for a high-quality style that includes a thin protective layer for the engraved surfaces. On most machines, the more info you engrave, the tinier the letters. So keep yours simple and easy to read by including only your pet's name and your cell phone number.
2. Consider a Service Like Help 4 Pets
In addition to a standard name tag, services like Help 4 Pets can reconnect you and your pet in the event of an emergency. They provide a tag with an 800 number and a special code for your pet. If someone finds your pet, they can simply call the number, provide the code and get help 24 hours a day. Services like these are nice in addition to regular name tags because you can have more info than just name and phone number on record. Help 4 Pets even has a special offer for Pets Best Insurance readers.
3. Microchip Your Pet and Keep Your Info Current
Some pet owners still underestimate the power of a microchip ID. True, you can't see it, you can't read a phone number on it and you can't even tell if a pet has one. But microchips are an absolute must for every cat and dog.
Think of how easy it is for your dog to back out of his collar when he doesn't want to do something. And collars break or come apart – every pet owner has seen that happen. Cat collars are even less reliable, because they're designed to break away if kitty gets tangled on a branch or a fence.
It has become quite standard for vet hospitals and shelters to scan pets thoroughly and check for microchips when they're brought in as "strays". If your pet has lost his collar, a microchip is possibly the only way you can be reunited before he is adopted to someone else, or worse.
Microchips are also becoming more affordable every day. Many shelters include them in their adoption fees, and non-profits and vet hospitals sometimes run specials as low as $12 per microchip, depending on where you live.
If your pet is microchipped, great! Do you remember the name of the company that keeps your information? Track it down and call or go online to make sure it's current.
With these three layers of protection, you can feel better knowing that even in a worst-case scenario, the odds are good you'll be reunited with your pet.
Learn how you can protect your pet with dog or cat insurance today!