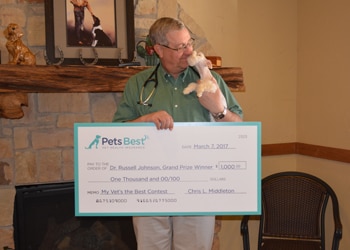 2016 My Vet's the Best grand prize winner to provide funds for service animals in need.
Boise, Idaho – Pets Best Insurance Services, LLC, a leading U.S. pet health insurance agency, has named Dr. Russell Johnson as the 2016 grand prize winner of its nationwide My Vet's the Best contest. Dr. Johnson owns Neighborhood Pet Health Center in North Richland Hills, Texas, where he practices veterinary medicine.
In 2010, Pets Best became the nation's first pet insurance agency to develop a contest with the sole intent of recognizing the country's best veterinarians. Each year, three contests are held, and hundreds of pet owners across the U.S. nominate their vets for outstanding acts of service and care. Voting for each season's winner is then held via Pets Best's Facebook page. At year's end, grand prize winners are selected by an internal review panel composed of respected veterinarians. In addition to a $1,000 grand prize, each year's winner receives an all-expense paid trip to the Western Veterinary Conference (WVC) in Las Vegas.
Dr. Johnson intends to use the cash winnings to support his clinic's charitable work. "This is a lot of money to some people," he says, "and can help us provide services to people who may not be able to afford it, which may impact the life of their pet—and their life."
He is also greatly anticipating the continuing education opportunities available at the March 2017 WVC, as well as the ability to interact with other top veterinarians around the country. But mostly, he's looking forward to attending the WVC with his wife, Lisa, who has worked as the clinic's office manager since the couple purchased the practice six years ago. "She deserves it as much as I do," says Johnson, who insists he "couldn't run [the clinic] without her." While Lisa often works tirelessly to keep the business side of Neighborhood Pet Health Center running smoothly, Dr. Johnson works around the clock with patients. "It's a team effort," he says.
"The veterinary industry requires dedication and much sacrifice, both on the part of doctors and their spouses," says Dr. Jack Stephens, founder and director of Pets Best. "Dr. Johnson and his wife Lisa are living proof that both veterinarians and their families play a part in ensuring their communities receive impeccable service and a high quality of care. Through their efforts, the Johnsons are making a major impact in their community, and that deserves the utmost recognition."
But while running the clinic means hard work and little down time for the Johnsons, they wouldn't have it any other way. "I've been doing this for 26 years, and I still have 15-20 clients who have followed me around whenever I changed clinics. We're on almost a third generation with some of their pets — and that's pretty special. Most people don't get to be a part of people's lives for that long," he says. "Interacting with people and developing and maintaining those relationships — that is the most rewarding part."
For more information about Pets Best and the My Vet's the Best contest, visit www.petsbest.com/vetpromo.
Read more about Dr. Johnson and his nomination here.
About Pets Best Insurance Services, LLC
Dr. Jack L. Stephens, founder and director of Pets Best, founded pet insurance in the U.S. in 1981 with a mission to end euthanasia when pet owners couldn't afford veterinary treatment. Dr. Stephens went on to present the first U.S. pet insurance policy to famous television dog Lassie. Pets Best provides coverage for dogs and cats. Dr. Stephens leads the Pets Best team with his passion for quality pet care and his expert veterinary knowledge. He is always available to answer questions regarding veterinary medicine, pet health and pet insurance. The Pets Best team is a group of pet lovers who strive to deliver quality customer service and value. Visit www.petsbest.com for more information.
Pets Best is a proud member of the North American Pet Health Insurance Association (NAPHIA).
###