Taking your dog to work: The good, bad and waggy
Posted on June 24, 2011 under Pet Health & Safety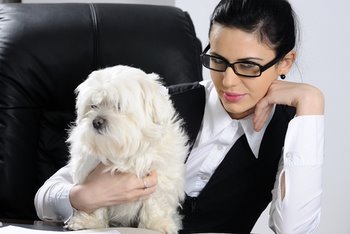 Posted by: H.M.
For Pets Best Insurance
Of all the little-known national holidays that pop up on calendars every year, Take Your Dog to Work Day has become one of the most popular. This year, Friday, June 24th is the designated day according to the official website, takeyourdog.com. And Pets Best Insurance is happy to celebrate the occasion– as always, the pet insurance office is pet friendly!
First celebrated in 1999 thanks to Pet Sitters International and about 300 participating companies nationwide, the holiday is now embraced by thousands of companies. But the day is about so much more than carting dogs to the office. Ideally, the day encourages adoption and the enrichment of pet health through companionship and increased interactivity.
In Fort Lauderdale, Florida, a six-year-old Shih Tzu named Sheriff goes to work with his mom twice a month. Sherry Friedlander, founder of the non-profit A Child Is Missing, initially began taking Sheriff to her office because he is afraid of thunder.
"Then I realized that he put everyone in a very friendly mood," said Sherry, so she kept bringing Sheriff in occasionally.
"He goes to everyone's desk and says 'hello,' then sits in the center of the hall and watches everyone come and go from office to office," said Sherry. "He brings a calm to the office, everyone loves him."
The extra socialization and change of scenery can do wonders for pet health and emotional well-being. But being around new situations and driven in the car also means precautions including making sure the animal is properly vaccinated and protecting it with dog insurance.
Camp Bow Wow is a national pet care company that offers doggy day and night care, in-home care, and training. Many of the franchise's clients rotate their pets between day care, in-home care, and taking them to work when possible. So Heidi Ganahl, CEO and founder of Camp Bow Wow, provides pet owners with the following tips for taking their dog to work:
CORPORATE FIDO
Confirm that dogs are allowed by the boss and accepted by co-workers, and keep the dog on a leash when introducing to colleagues and their dogs.
CURIOUS FIDO
Dog-proof the office the day before just like you would for a child. Secure loose cords and dangerous small object like paper clips, staples and pens.
PLAYFUL FIDO
Make time to get the dog outside for a play session or a walk. Schedule outdoor dog activities with coworkers and their dogs.
STATIONARY FIDO
If extended time outside is not possible, bring the dog's toys and bed from home to make him more comfortable and able to entertain himself. Leave the squeaky toys at home, and cherished bones or rawhide as well if other dogs will also be on staff that day.
HUNGRY FIDO
Don't break meal times. If needed, bring bowls to the office and feed as usual. Keep the food of different dogs separate.
RELIEVING FIDO
Extra excitement can mean extra needed potty breaks. Get him outside a few times during the day, and consider bringing wee-wee pads to avoid accidents.