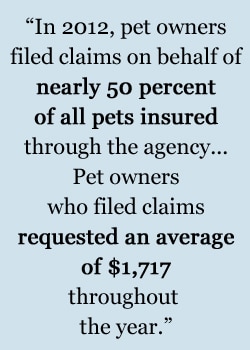 On average, Pets Best Insurance clients file first claims about 2 months after enrolling pets
BOISE, Idaho – In honor of National Pet Health Insurance Month, Pets Best Insurance, a leading U.S. pet insurance agency based in Boise, Idaho, released new data today showing that a significant number of its clients file multiple insurance claims for their pets each year, with many saving hundreds to thousands of dollars in the process. In addition, many clients who enroll their four-legged family members in Pets Best Insurance plans file their first claims within only a few months.
"Just like humans, animals can experience a variety of health problems throughout the year," said Dr. Jack Stephens, president and founder of Pets Best. "Our clients often file claims very quickly after enrolling their pets, yet there are still many people unaware that pet insurance often serves as a simpler and more affordable method of paying for veterinary coverage than simply trying to save money for unexpected out-of-pocket expenses."
The figures released by Pets Best Insurance indicate many pet owners file claims soon after obtaining coverage. The average age of a pet at enrollment with Pets Best is 3.45 years, and the average first claim is filed within approximately two months.
Pets Best reports that in 2012, pet owners filed claims on behalf of nearly 50 percent of all pets insured through the agency. Among those pets, Pets Best received an average of 4.75 claims per pet in 2012. Pet owners who filed claims requested an average of $1,717 throughout the year.
Many common health conditions can generate more expensive claims, including cancer and cruciate ligament injuries. For pets receiving cancer treatment in 2012, pet owners requested an average of $2,155 throughout the year, while the average amount requested per dog for cruciate ligament injuries was approximately $2,340.
Stacy Lowrance, a California resident with two Corgis, has relied heavily on Pets Best Insurance since she enrolled her canines in 2008.
"I was filing claims pretty frequently when my Corgis were puppies, and they were always sneaking into food that made them sick or getting injured during horseplay. No question, having pet insurance has helped me afford veterinary care," Lowrance said. "I tell everybody about my positive experiences with Pets Best, especially when I'm at the veterinary office and I hear people complaining about their bills for pet care."
Pets Best reimburses up to 90 percent of claims, depending on the coverage plan.
"Paying for veterinary care can be very stressful if pet owners are unprepared. This data serves to show that many of our clients are successfully filing claims to help pay for their pets' care," Stephens said. "I hope more pet owners continue to recognize the benefits of pet insurance. At Pets Best, we take pride in keeping pets healthy, and we look forward to continued growth within our industry."
About Pets Best Insurance
Dr. Jack L. Stephens, president of Pets Best Insurance, founded pet insurance in the U.S. in 1981 with a mission to end euthanasia when pet owners couldn't afford veterinary treatment. Dr. Stephens went on to present the first U.S. pet insurance policy to famous television dog, Lassie. Pets Best Insurance provides coverage for dogs and cats and is the only veterinarian founded and operated pet insurance company in the United States. Dr. Stephens is always available to answer questions regarding veterinarian medicine, pet health and pet insurance. Visit www.petsbest.com for more information.
Pet insurance plans offered and administered by Pets Best Insurance are underwritten by Independence American Insurance Company, a Delaware Insurance company. Independence American Insurance Company is a member of The IHC Group, an insurance organization composed of Independence Holding Company, a public company traded on the New York Stock Exchange, and its operating subsidiaries. The IHC Group has been providing life, health and stop loss insurance solutions for nearly 30 years. For information on The IHC Group, visit: www.ihcgroup.com. In states in which Independence American Insurance Company's new policy form has not yet received regulatory approval, Aetna Insurance Company of Connecticut will underwrite policies. Each insurer has sole financial responsibility for its own products. To determine the underwriter in your state, please call Pets Best at 1-866-929-3807.
Pets Best Insurance is a proud member of the North America Pet Health Insurance Association (NAPHIA).