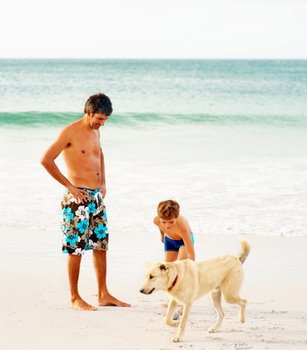 By: Dr. Fiona Caldwell
Idaho Veterinary Hospital
For Pets Best Insurance
Spring break usually means a break from the normal daily grind and a chance to relax and maybe even travel somewhere warm. With some foresight and planning you can include the four-legged members of your family on vacation as well. Pet insurance provider, Pets Best Insurance even allows you to take your pet to any licensed veterinarian, anywhere in the world– so you can rest easy knowing you can travel with your four-legged friend and visit a vet in case of any accidents or illnesses on the road. Alternatively, if you have to leave your pet behind, being prepared prior to scheduling kenneling or a pet sitter can make the trip smoother for everyone.
Increasingly, more and more hotels and resorts are becoming pet friendly. Check websites such as petswelcome.com or officialpethotels.com in the area that you are traveling to find a place that will welcome your animals. Another option is to look into vacation rentals by owner at VRBO.com. These are condos and homes owned by people willing to rent them out for holidays and vacations. While you can probably expect a pet deposit fee, many will allow your pets to stay.
If you decide to bring Fido along, there are some considerations to make for his or her comfort and health. Ask your veterinarian what type of parasite prevention you might want to apply depending on the area you are traveling to. The United States is so large that different regions have very different endemic parasite borne diseases, such as Lyme disease and heartworm disease. Using a product to prevent parasites will help ensure good pet health.

Or Call 877-738-7237 to Add a Pet to Your Current Policy
Traveling can be stressful for pets, especially cats. Acclimating your animal to an appropriately sized kennel with a comfortable blanket that smells like home can help to make the journey smoother, especially if you are driving with them. Consider bringing a toy from home, use the same food he or she usually eats to prevent stomach upset and try to stick to normal routines your pet is familiar with, such as afternoon walks. Products that contain calming pheromones have been shown to lessen anxiety as well. They are available for both dogs and cats; ask your veterinarian for additional information.
If you are flying with your pet, be sure to determine the airlines' requirements prior to traveling, as each is slightly different. Most will require a veterinarian produced health certificate within 10 days of flying. The airlines typically require a dog crate that can bolt shut (not the plastic snap closures that some smaller kennels have). The animal must be able to stand and turn around comfortably. If he or she is flying cargo, tranquilizers or anti-anxiety medication are NOT recommended, as this can be sedating, causing the pet to be unable to regulate body temperature, or right itself if knocked over.
It your pet is small enough to travel in the cabin with you, you might discuss anti-anxiety medication with your veterinarian. He or she will likely have you try the medication prior to travel to ensure your pet tolerates it well. Never use over the counter medications, or your own medications on your pet without doctor supervision.
If your pet's personality isn't suitable to travel, or if you are traveling somewhere they are not invited, plan your care for them well in advance. Visit a local kennel and ask for a tour. Ask what their plan is if an illness occurs, or if there is a doctor on staff. Ensure their vaccinations are up to date, including bordetella or kennel cough. If leaving Fluffy in a kennel gives you anxiety, consider a pet sitter instead. Many pet sitters will even stay in your own home, or at least visit twice daily and perform walks and administer medication. This allows the least change in routine, which is especially nice for cats. Check out Fetchpetcare.com for local pet sitters in your area.
Spring break will be much more enjoyable if your only worries include what to order for dinner and remembering to applying sunscreen rather than stressing about Fido! With some planning and thoughtfulness, everyone in the family, including your pets, can return for spring break relaxed and happy.
For more information about pet health visit Pets Best Insurance.