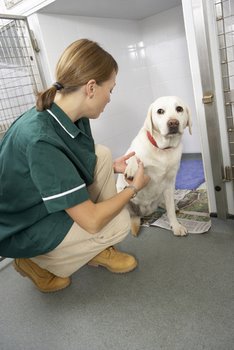 Not only can pet spaying & neutering be good for pet health and for the general pet population, but it's also becoming more affordable.
As towns across the country seek to get pet overpopulation under control, spay and neuter clinics are becoming easier to find. Also, those looking for low cost spaying and pet neutering should check with their pet insurance provider, as the procedure is often covered.
Some cat and dog insurance companies will provide limited coverage for spaying and neutering with wellness and routine care plans. Why? Because having a pet spayed or neutered is part of responsible pet ownership, according to the American Veterinary Medical Association.
The AVMA website is a wealth of information on pet health topics. The non-profit association, established in 1863, posted an entire collection of scientific papers related to pet neutering. Topics range from establishing the ideal age for the procedure, benefits and impacts, and risks.
One of the published studies, Determining the Optimal Age for Gonadectomy of Dogs and Cats by Margaret V. Root Kustritz, DVM, PhD, DACT, found that having pets fixed helps pet overpopulation in two ways. First, animals are unable to breed. Second, fixed pets are happier and more comfortable, and that means less dog behavior problems, less cat spraying to mark territory, and fewer pets relinquished to already-crowded shelters.
On the flip side, some industry professionals argue that spaying or neutering your dog can introduce some negative risk factors as well, including a greater incidence of obesity, a tripling of the risk for developing hypothyroidism and the possibility of acquired incontinence in female dogs. While most vets strongly believe that the risks outweigh the benefits, you should talk to your vet about what is right for your pet.
The scientific review concluded that complications from spaying and neutering are less likely when a dog is less than 2 years old, all pets in shelters should be fixed prior to adoption, and healthy dogs and cats not intended for breeding should be fixed before their first heat cycle.