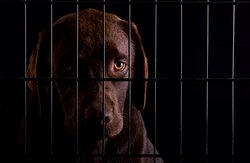 Richard Smith was aghast when he and his team found a plethora of puppies locked in cages and covered in their own waste in a Chester County puppy mill.
According to WBTV, the Sheriff and his department uncovered 87 puppies from a property where dog health conditions were abominable.
The department was tipped off after a concerned citizen, who had initially gone to the mill to purchase a puppy, saw the multitude of pups in filthy cages covered in feces, the news provider reported.
Smith said he was thankful that the citizen stepped forward, because people often won't, or don't know what to do.
"Somebody knows something, but a lot of times law enforcement isn't tipped off," Smith told WBTV.
The news provider reported that owner of the property, Melissa Lyles was arrested and charged with ill-treatment of animals.
Doctor Parish Wood of Carolina Place Animal Hospital in Richburg who helped provide the rescued dogs health care said that dog breeders often don't mean for the conditions to become so bad.
"They might start out with good intentions to make some puppies but when you have so many dogs that aren't fixed they just keep breeding on their own," Wood told the news source.
WBTV reported that Lyles was selling the puppies for between $500 to $900 each.
Smith told the news provider he was glad to have saved the puppies but that there ought to be stricter regulations for breeders. He told the news source he thinks officers should be able to check-in on them, much like they can in daycares.
"If we had that type of authority it would have prevented all of this," Smith told the news provider.
Some of the puppies are still available. For more information on how you can adopt the rescued animals contact Chester County Animal Control.