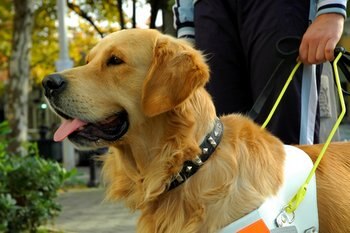 By: Dr. Fiona Caldwell
Idaho Veterinary Hospital
For Pets Best Insurance
For centuries humans and canine companions have gone together like peanut butter and jelly. In some instances, the human-animal pairing goes even deeper than companionship. Service or assistance dogs tend to have a special bond with their owners, as their relationship transcends friendship and is also based on mutual reliance. There are stories throughout history of assistance dogs, owing in part to their loving nature and readiness to serve the people they love.
People with disabilities can directly benefit from the independence and freedom hard-working assistance dogs provide by performing daily tasks. Assistance dog training courses are rigorous, with much research and experience having gone into the programs, allowing today's certified assistance dogs to be at the highest level of reliability and safety.

Or Call 877-738-7237 to Add a Pet to Your Current Policy
The term "service dog" can include dogs that work in police and military forces, whereas assistance dog specifically refers to those that help people with disabilities. The first recognized assistance dog job was likely as a seeing-eye dog, meant to help assist the visually impaired, but there are many other instances where dogs have been able to aid the disabled.
We all get irritated when our dogs bark at the doorbell, but hearing service dogs get a 'free pass' for this behavior! Hearing assistance dogs will alert their owner when the phone rings, or somebody is at the door, or in more serious situations, like if a fire alarm goes off. This allows their owner the independence to live on their own despite their disability.
Seizure response dogs are especially interesting, as some have developed the ability to sense an impending seizure and alert its owner to take precautions, such as sitting down or summoning help. It is unclear exactly how dogs can sense this, and the behavior is usually report to occur spontaneously. There has been limited success in 'training' dogs to recognize their owner is going to have a seizure, which suggests not every dog has this ability. Seizure response dogs must be completely perfectly suited to their job, and it is imperative they can maintain self-control in any situation the owner finds themselves in.
Medical response dogs have been trained to recognize certain medical states, such as dangerously low blood sugar in a diabetic person, at which point they can alert that owner to seek help. In addition, the medical response dog may be able to fetch medications, call for help, provide stability for mobility or carry necessary medical equipment, such as oxygen tanks.
Psychiatric assistance dogs are given all the rights and protections afforded to service dogs with more traditional jobs. The Americans with Disabilities Act defines a disability as "a physical or mental impairment that substantially limits one or more of the major life activities of such individual." Just as with all other traditional assistance dogs, psychiatric service dog is individually trained to perform tasks that lessen their owner's disability. This might include reminding the owner to take medication, the ability to assess the surrounding in the event of hallucinations or paranoia, interrupting harmful or repetitive behaviors, providing comfort in stressful situations or retrieving objects.
The traditional service dog has been a Labrador or golden retriever, but any breed can become a service dog, as canines are typically easy to train. Typically puppies are placed in approved foster homes until they are ready for advanced training. The foster homes will teach basic obedience, manners, socialization, and desensitization toward all types of different situations and people. The dog's temperament is assessed during this time as well. If the dog doesn't 'make the cut,' they will be adopted out as a pet. Advanced training is typically done by professional trainers with the program geared towards a specific disability the dog is suited to.
Service dog work requires a special canine that is able to channel their enthusiasm and love for helping out into a productive manner. The mental capacity and intelligence displayed by service animals is astounding and the love and selflessness they possess while providing such a great service is inspirational.
For more information about dog health or behavior, or to learn how to protect your dog with pet health insurance, visit Pets Best Insurance.