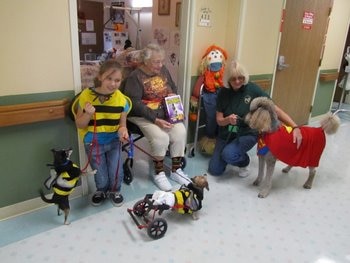 By: Dr. Jack Stephens
Pets Best Insurance President
Our dog Schotzie has been paralyzed for nearly a decade due to a ruptured disc in his back. This condition is common to the Daschund breed and if left untreated, can cause permanent paralysis. In Schotzie's case, it caused sudden paralysis of the rear legs that required surgery to remove the disk material that was pressing on the spinal cord.
With quick treatment and surgery he could have been restored to normal. However, because his previous owners did not have the financial means to do so, he was not treated. This is just another example of how pet insurance could have easily changed Schotzie's fate. As a result of not receiving proper treatment, he became permanently paralyzed and was schedule for euthanasia had not my wife adopted him. We flew him across the country and had a special cart made for him that allows him to be ambulatory. Of course as you can see by the photo, he must wear a diaper because he does not have normal control of his bladder or bowels.
He is a happy, patient and a wonderful therapy pet. He loves everyone and everyone loves to see him ambulate around in his doggy wheelchair. Though some humans, in a similar situation, might feel sorry for themselves, Schotzie behaves as if there is no physical problem.
One Halloween, he and Cooper (another one of our therapy dogs) visited a local nursing home with my wife, Vicki and our granddaughter Bradie.
As usual, Schotzie was especially inspirational for the seniors in wheelchairs. It was inspiring for them to see his outgoing and can-do disposition. Schotzie is also an inspiration when he visits children's hospital wards. During these visits, he motivates the children to forget their own misfortune and gets them laughing, interacting and following him around.
There is nothing as gratifying as seeing therapy pets at work in society. Although most therapy pets are dogs, other pets, such as horses, cats, birds and rabbits do well also. My wife also has several miniature therapy horses for reading classes in grade schools. Therapy pets play the necessary role of relieving tension, reducing pain and depression and causing an increase in endorphins (warm feeling), oxytocin (happy hormone), prolactin (bonding hormone) and decreasing cortisol (stress hormone).
Visits at senior care facilities help to relieve boredom, entertain and create a warm atmosphere for patients and nursing staff. Therapy pets can also be used for detention facilities, special education students in high schools and rehabilitation facilities—many with great success stories.
Having worked with animals all my life, and now working in the pet insurance industry, I know better than most that special pets like Schotzie are not for everyone. They require more work, patience and time than normal pets. But the reward for those with the skills and patience is worth the effort because of their special attitude and zeal for life. Three of our therapy dogs; Schotzie, JP and Cooper were "throw away" pets that I can attest are now giving back so much to those they visit.
Consider adopting your next pet from a shelter or local rescue organization – you will receive more back from them than you can imagine!