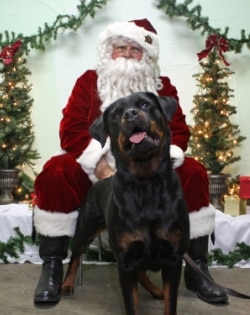 On December 18, 2013 Pets Best, a nationwide pet insurance agency, held a "Photos with Santa" event in their community to benefit a local dog shelter. The Meridian Valley Humane Society (MVHS) in Meridian, Idaho, was recently re-opened by its all volunteer staff and relies on donations to operate.
The event was a great success and raised $700, including a matching donation from Pets Best. In addition, 30 bags of food were donated to the shelter by H3 Pet Foods, where the event was held.
In total, 25 families brought 35 dogs to the event, including several dogs that had been adopted from the Meridian Valley Humane Society.
In January, several Pets Best employees visited the Meridian Valley Humane Society to see the new facilities and bring the matching donation check. The shelter has already had great success in adopting out their dogs. As a smaller shelter they are able to get to know each dog well and they work hard to ensure the dog get placed in their forever home. The Pets Best employees were happy to learn that each dog gets walked multiple times a day, some days a dog may get walked up to 7 times!
The shelter has had a very warm welcome in their new neighborhood. While Pets Best was there, an employee from a company next door stopped by on her lunch break to take a dog on a walk, which is her daily routine. MVHS said several employees around the area have become regular volunteers.
You can visit the Meridian Valley Humane Society at 191 N. Linder Rd., Meridian, Idaho 83642. You can contact them via phone at 208-794-0944 or email at meridianhumanesociety@gmail.com or visit their website at meridianvalleyhumanesociety.org.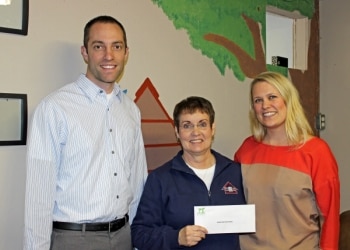 MVHS is looking for donations of all kinds, including:
Financial donations – Any/all amounts
Food – Ideally grain free
Dog toys
Dog leashes
Blankets
Their mailing address is: Meridian Humane Society, 3313 W. Cherry Ln. #603, Meridian, ID 83642.
A couple of photos from the Santa event on December 18th: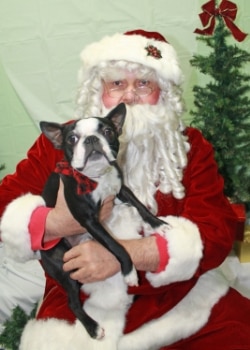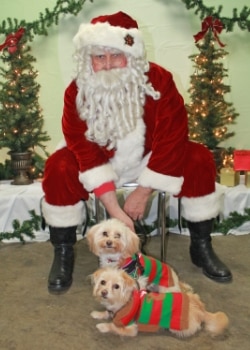 A couple of photos from the Pets Best visit to the Meridian Valley Humane Society: