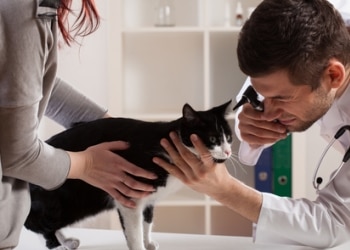 By: Dr. Peter Weinstein, DVM, MBA and writer for Pets Best, a pet insurance agency for dogs and cats.
Reports indicate that it is about 10 times more expensive to acquire a client than to retain those that you already have. Thus, acquisition marketing has a much higher price tag than just communicating, educating, and relationship building with the pet parents that you already have.
SO, doesn't it make sense to do everything that you possibly can to keep, preserve, and retain that which is rightfully, dutifully and already YOURS. Therefore, shouldn't the bulk of your advertising or marketing budget be directed towards retaining your already satisfied clients. Thus the term RETENTION MARKETING is used to describe any and all communications, promotions, marketing, etc. that is developed to maintain, keep or retain clients that are already part of your hospital family.
FACTS:
In a Research Project conducted a few years ago, the following reasons for leaving a business as a client were identified:
1% Death
3% Moved away
5% Buy from a friend
9% Are sold by a competitor
14% Product or service price
68% Perceived indifference
Over two thirds of clients will leave a practice because of the way they are treated, because they feel your practice is indifferent to them being a client!! Doesn't it make sense to focus on the manner in which our clients are treated at all points during the relationship. You lose clients because they don't have a sense of relationship with you. The goal of Retention Marketing is to strengthen that relationship.
Retention Marketing may be less expensive than acquisition marketing but that doesn't make it any easier. In fact, sometimes the expectations that your clients have developed for your practice are so great that you actually have to perform at a higher level for your existing clients. So, although the financial outlay may not be as great, the emotional and time contributed may be greater.
What is included in Retention Marketing?
Retention marketing includes controlling all of the contact points with a client. These may be when the client contacts your practice or when you contact a client.
INREACH—the client contacts you.
Anytime a client calls or stops in to visit, they develop an image. If the image is cold, careless and isolated, the relationship that exists with your practice is weakened. If the image is warm, caring, comforting, concerned, etc., the relationship is strengthened.
IMAGE: It is imperative to work on your image everyday. To do this you have to have a vision of how you want to relate to your clients. How do you want to answer the phones? How do you want to welcome a client when they come in? Where are the smiles? What are you doing to make your existing clients feel welcome and part of the family?
APPEARANCE:  Even the exterior and interior appearance of your practice is part of retention marketing. How warm is the feel? What colors have you used to create a welcoming feel? What is your staff dress code or appearance? Does your staff have name tags or not? What about the nature of the seats in the reception area—are they comfortable or stiff? Pictures on the walls also emit a message. You have to think about all the details as your clients would. What a healthcare professional perceives as warm and comforting may not be what makes a consumer warm and comfortable. Seek professional assistance in building your image and appearance. If your clients are comfortable, you will know it because they are in no rush to leave and will hang around chitchatting. That is a good sign…
OUTREACH—YOU communicate with the client.
The mainstay of RETENTION Marketing is your communication with the client. In the 'good old' days, written communication with the client was primarily reminder cards. These were sterile notes designed just to get a client to take an action. There was very little in the way of relationship built with reminder cards. And virtually NO education was included on the cards.
Subsequently, the use of newsletters was developed. Newsletters allowed for more personalized communication about what was going on in the practice as well as education about medical conditions that a pet might develop or education about new products or services that were available in your practice. Newsletters definitely allowed for more relationship building as well as education.
As the cost of care has escalated so has the need for more intensive marketing programs that focus on communication, education, and calls to action. The goal of 21st century Retention Marketing is to educate, communicate caring and needs, and to encourage action.
Although pet owners are much more highly knowledgeable now than they ever have been as a result of the internet and other resources, your practice is the EXPERT when it comes to pet health and should act and feel that way.
It is your role to frequently and succinctly bring your clients up to date on the newest, best, most accurate information that they can use for their pets.
MAJOR POINT:  In marketing, it can take anywhere from 5 to 12 'touches' of a product or service to a client BEFORE they may take action.
This major point helps explain why one reminder is frequently insufficient. It explains why talking about the need for dental care has to be done year after year before a teeth cleaning takes place. It clarifies why it has taken so long to improve compliance in so many areas of veterinary medicine.
For Retention Marketing to be most effective, it must educate, communicate, cajole, and coax through about a dozen contacts to finally stimulate action.
In my next article, I'll discuss the 3Rs of Retention Marketing as well as the idea of a Retention Marketing System.
Until then, if you are interested in learning more about Retention Marketing, you may be interested in Retention Marketing for Veterinary Professionals by Peter Weinstein and Steven Kornfled. It is available from Amazon for $80 or if you contact me directly at PeterW2@aol.com I will send you the book for $60 (checks only).