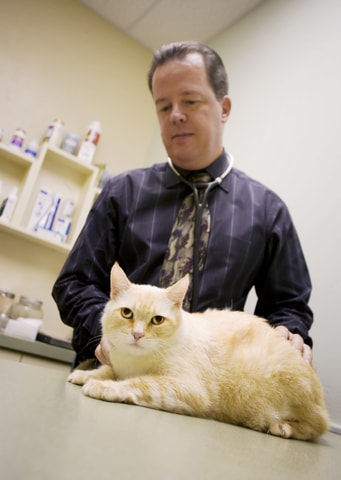 Posted by: H.M.
For Pets Best Insurance
If you are like many pet owners across the country, you may be considering buying pet insurance for your dog or cat. With veterinary care getting more expensive, taking good care of our furry family members can become a real economic hurdle.
A good dog or cat insurance policy can help with those costs, allowing your pet to receive the best care available. But you will want to do your research carefully because pet insurance costs do vary from plan to plan.
What will be covered?
First, you will need to find out what kinds of veterinary care pet health insurance companies cover. Below are some coverage options to consider:
• Routine – Routine care is usually not covered as part of a basic pet insurance plan. Routine services include physical exams (not related to an illness or injury), vaccinations, some routine lab tests, etc. Companies like Pets Best Insurance offer a plan that includes routine care for an additional monthly fee.
• Vet services related to a health problem – The majority of basic pet insurance plans cover services related to illness, accidents or injuries. This usually includes emergency visits, surgeries, hospitalization, diagnostic lab blood work, tests like MRIs and X-rays, prescription medicines and more.
• Alternative treatments – Another add-on you might consider are "alternative" treatments like chiropractic care or acupuncture. Some companies charge an additional fee for this kind of care, but Pets Best Insurance offers limited annual coverage for chiropractic and acupuncture in its standard plans.
• Levels of care – Many pet insurance companies offer a menu of plans, mainly on different levels like "Basic," or "Premier" and are priced accordingly.
• "Limited" Coverage – Some cat and dog insurance companies will offer limited coverage for things like pregnancies, hereditary conditions, behavioral problems and mortality expenses.
Know Exactly What Your Costs Will Be
A reliable, high-quality pet insurance company will spell out all the costs and coverage of its plans so you'll know exactly what you're paying for, and what you'll get. You shouldn't have to worry about unexpected or hidden costs. Ask lots of questions from the customer service representatives until you are satisfied and feel confident in their responses.
Select a Pet Insurance company
After you have researched and factored in all the costs of a plan, you can determine what will be the best pet insurance for you and your pet. Some people will opt for a very basic pet insurance plan, and others may decide a full array of services will suit them. But only you know what will fit into your budget or what is comfortable for you.
For more information about cat and dog insurance, visit www.petsbest.com.