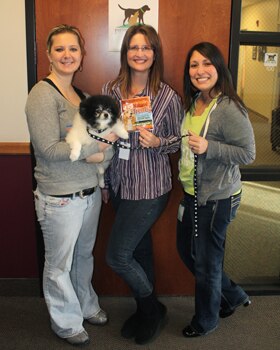 February is Responsible Pet Owners Month. Being a responsible pet owner can mean a lot of things. Sometimes you don't even have to be the pet's owner to do the responsible thing, as three of our Pets Best Insurance employees recently demonstrated.
After a recent snow storm, Laura, a sales agent at Pets Best, looked out her office window and saw a black and white Aussie dog running loose. Our office is on a busy street so this immediately concerned Laura. She was on the phone with a client, so she got the attention of Raychel, another Pets Best employee and asked her to go help the dog. While running out the door with a leash and treats, Raychel called to another employee, Sarah, to come help.
Raychel and Sarah ran outside in the snow and ice, calling out to the dog. The dog darted directly into oncoming traffic. Thankfully all the cars stopped. Raychel and Sarah ran across the road to follow the dog, and in their high heels nonetheless, traversed the huge snow piled median, trying to keep up with the dog. But the dog crossed the street and took off down another side street. After Raychel and Sarah couldn't track the dog any longer, they returned to the office.
Meanwhile at the office, Laura had called Animal Control. She described the dog and area of our office and luckily, the owner had also called Animal Control. So Animal Control was able to give Laura the owner's phone number, so Laura called her to let her know the situation. The dog, Pepper, and her owner Christy had recently moved to town. So when Pepper got loose, she was very disoriented and didn't know how to make it home. Pepper had already been missing for over a day, out in the freezing cold and snow. Additionally, Pepper had been a rescue dog, and in her previous home she was abused, so it made even more skittish and scared. Christy the owner was very distraught and worried about Pepper. She was so thankful to get an update on the area Pepper had last been seen. She had been out all night searching for Pepper.
Upon returning to the office, Raychel got her car and headed toward the area she'd last seen Pepper. She started asking anyone and everyone she could find if they'd seen Pepper. She also called a police officer to come help make the rounds with the neighbors. Getting some good leads, Raychel and the officer were able to track down Pepper! They called Christy the owner and while she raced to meet them, Raychel and the officer were able to keep Pepper cornered. Once Christy arrived, it still took Pepper a little bit to calm down and recognize her owner; which is not surprising for how distressed and scared she'd been. Christy was so happy and took Pepper home, where her son couldn't stop hugging Pepper all night! Their family had finally been reunited!
As a pet insurance company, we love animals and help save dogs and cats daily. But we're very thankful to have people like this on our team, who will go to such great lengths for a pet that's not even theirs. Have you rescued a dog or cat? Or has someone gone out of their way to help you recover your pet? Let their good deeds be known and share it with us in the comments.
Photo: Sarah, Laura and Raychel who rescued Pepper, hold Mikey, another Pets Best Insurance rescue.

Or Call 877-738-7237 to Add a Pet to Your Current Policy