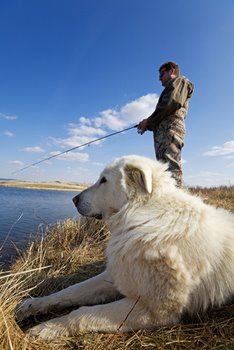 Kyle Nelson didn't know his dog's life would be in jeopardy from a simple fishing trip.
But the California resident got a scary surprise when his Boxer-Dauchshund mix, Della, nibbled on some remnants from a raw fish he had gutted, ABC Action News reported.
According to the source, Della's veterinarian told Nelson his dog was suffering from severe pet health problems due to salmon poisoning—a malady often found in the Pacific Northwest.
"It's the first case I've ever seen in 35 years of practice," Dr. Jerry Ratterree or Elsinore Pet Clinic told the news provider.
According to the source, raw salmon and other types of fish can be detrimental to dog health because the fish are often infected with parasites, which are harmless to humans and other animals but lethal to dogs.
The news source reported there a few things pet owners can look for if they suspect their dog has gotten a hold of raw fish.
"Infected dogs typically have a fever, diarrhea, lack of appetite, weakness and swollen lymph nodes," the source reported.
According to ABC Action News, salmon poisoning can kill a dog within four to five days of ingesting contaminated fish.
"It's quite deadly," Ratterree told the source.
Ratterree said if the pet health condition is caught in time, salmon poisoning can be treated with antibiotics.
Veterinarian, Dr. Allan Drusys, told the news source that dogs should never be permitted to eat raw salmon or trout no matter from which body of water it has originated.
Fortunately, Della survived the salmon poisoning.
"I was on an emotional roller coaster," Nelson told the news source of his dog's pet health ordeal. "Della is pretty much like our kid."