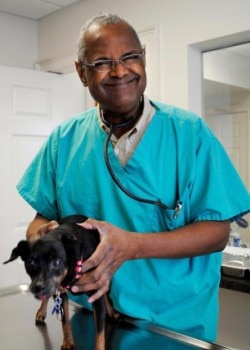 Contest honors country's most respected veterinarians, provides funding for animals in need 
BOISE, Idaho – Pets Best Insurance Services, LLC, a leading U.S. pet insurance agency, announced today the most recent quarterly finalists of its My Vet's the Best contest, which honors the nation's most exceptional veterinarians and provides them with funding to treat animals in need.
Pets Best selected the following six finalists from nominations submitted by pet owners across the country:
Dr. Sarah Coburn – North Slope Borough Veterinary Clinic, Barrow, Alaska 
Dr. Coburn, who practices in a remote Alaska town accessible only by plane, often flies to smaller villages to treat injured and ill animals.
Dr. Natalie Dyson – St. Francis Veterinary Center, Navarre, Fla.
Dr. Dyson often takes in critically ill pets to monitor them in her home. She also volunteers her veterinary skills to a number of local organizations, including a nonprofit she created.
Dr. Denise Trapani – Animal Health Center, Walpole, Mass.
Dr. Trapani, who serves as a licensed wildlife rehabilitator, works with several rescue organizations in Massachusetts to help place and treat homeless pets.
Dr. Robert Slobody – Meadowlands Veterinary Center, Willoughby, Ohio
Dr. Slobody has led the Ohio Veterinary Medical Association's task force on pet overpopulation. He also created the Jake Fund to help pet owners in financial need.
Dr. Kermit Harvey – Animal Hospital of Tampa Inc., Tampa, Fla.
Dr. Harvey has provided veterinary care to his community for more than three decades. He also uses his office as a hurricane shelter for local pets.
Dr. Jennifer Petrovich – Clyde Park Veterinary Clinic, Grand Rapids, Mich.
Dr. Petrovich and her team members have rescued more than 3,500 cats through the two nonprofit organizations she created, Crash's Landing and Big Sid's.
"Every installment of the My Vet's the Best contest reveals the untold stories of exceptional veterinarians who are devoted to animals in all aspects of their lives," said Dr. Jack Stephens, president and founder of Pets Best. "We are proud to provide these professionals with the recognition they deserve."
This is the third consecutive year Pets Best has recognized leading veterinarians with its ongoing My Vet's the Best Contest. Each year, the agency calls upon pet owners to select the contest's quarterly winners by voting online. Each winner receives $1,000 to treat animals in need, and the pet owners who nominate each winning veterinarian receive $200 for sharing their stories.
Members of the public have until Nov. 11, 2013 to vote for their favorite of the six finalists. Voting polls can be found on the Pets Best website, www.petsbest.com, and on the agency's Facebook page, www.facebook.com/PetsBestInsurance.
Pet owners from across the country are encouraged to continue nominating doctors who go above and beyond to serve animals of all shapes and sizes. In addition to awarding quarterly winners, Pets Best also selects an annual grand prize winner.
In 2010, Pets Best became the nation's first pet insurance agency to develop a contest aimed at recognizing outstanding veterinarians. The agency now receives hundreds of nominations each year.
"Each quarter's nominations demonstrate that there is no shortage of selfless veterinarians who work tirelessly to promote pet health," Stephens said. "Pets Best wants to hear about all of them, and we look forward to sharing their stories for years to come."
For more information about the My Vet's the Best contest, visit www.petsbest.com/vetpromo.
About Pets Best Insurance Services, LLC
Dr. Jack L. Stephens, president of Pets Best, founded pet insurance in the U.S. in 1981 with a mission to end euthanasia when pet owners couldn't afford veterinary treatment. Dr. Stephens went on to present the first U.S. pet insurance policy to famous television dog Lassie. Pets Best provides coverage for dogs and cats and is the only veterinarian founded and operated pet insurance company in the United States. Dr. Stephens leads the Pets Best team with his passion for quality pet care and his expert veterinary knowledge. He is always available to answer questions regarding veterinarian medicine, pet health and pet insurance. The Pets Best team is a group of pet lovers who strive to deliver quality customer service and value. Visit www.petsbest.com for more information.
Pet insurance coverage offered and administered by Pets Best Insurance Services, LLC is underwritten by Independence American Insurance Company, a Delaware Insurance company. Independence American Insurance Company is a member of The IHC Group, an insurance organization composed of Independence Holding Company, a public company traded on the New York Stock Exchange, and its operating subsidiaries. The IHC Group has been providing life, health and stop loss insurance solutions for nearly 30 years. For information on The IHC Group, visit: www.ihcgroup.com.
Coverage may vary depending on your plan selection and your state of residence. Information is accurate, as of the publication date; however is subject to change. For complete details about the policy terms, conditions and exclusions, please review generic policy form number IAIC-PET-POL1211 or the applicable form for your state of residence. In states in which Independence American Insurance Company's new policy form is not currently available for sale, Aetna Insurance Company of Connecticut will underwrite policies. Each insurer has sole financial responsibility for its own products. To determine the underwriter in your state, please call Pets Best at 1-866-929-3807.
Pets Best is a proud member of the North America Pet Health Insurance Association (NAPHIA).
 Photo above: Dr. Kermit Harvey, a quarterly finalist in the national My Vet's the Best contest. Dr. Harvey practices at the Animal Hospital of Tampa Inc., in Tampa, Florida.
###