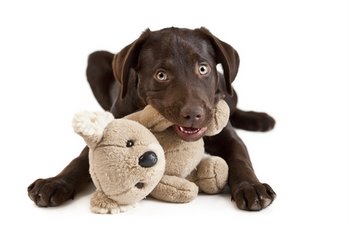 Posted by: H.M.
For Pets Best Insurance
While newborn puppies don't typically start out with behavioral problems, it's an unfortunate reality that many pets are abandoned or euthanized because of their behavior. But research in the field of veterinary behavioral medicine has assisted pet owners and their dogs with problematic behaviors.
Behavioral Medicine
Because of these advances in animal behavioral science and with early intervention, dogs and cats are now being helped. Often, biology causes certain actions, but other times, it's a neurological or psychological issue. Some vet hospitals even offer special clinics for puppies, dogs, cats, and kittens. And some pet insurance companies, like Pets Best Insurance, offer limited coverage for behavioral issues.
Some behaviors that are addressed include:
• Phobias
• Separation anxiety
• Improper elimination
• Aggression towards humans and/or other pets
• Compulsive behaviors
Interventions
Behavioral intervention programs differ from taking your pet to obedience school. Those programs are great for socialization and teaching owners and puppies basic training. Most true specialty behavioral clinics are run by veterinary hospitals, a vet specialist in behavioral science or a skilled animal behavioralist.
The Ohio State University College of Veterinary Medicine's Medical Center has such a program that includes "problem prevention consultations" with pet owners. The program includes detailed interviews with owners, and evaluations of results are used to create a pet health treatment plan. These programs work with puppies, kittens, dogs, and cats, but also focus on newly rescued animals.
"Head Start"
OSU's program includes a "Head Start" consultation, which is an early intervention by the behaviorist. This type of consult is not meant to treat behavioral problems, but is focused on "problem prevention." Topics like socialization, normal canine and feline development, and crate training are addressed.
Check with your vet to see if these kinds of programs are offered in your area. Good pet health care starts with you!