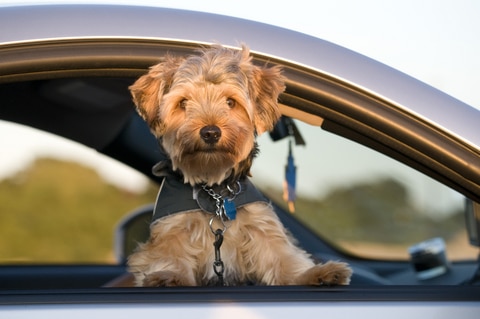 Las Vegas pet owners who bring their furry friends along for car rides may want to reconsider.
According to Fox 5 News, law officials have the public on the hunt for pet owners who lock their pets in cars as the summer heat swelters.
The source reports high temperatures can be extremely damaging to pet health.
"With temperatures poised to reach triple digits… pet owners are being urged not to leave their pets in parked cars," the source reports.
Pet owners in Las Vegas, NV who don't adhere to the caution can face fines up to $1,000 or spend six months in jail.
According to the Animal Legal and Historical Center website, other state laws are just as severe.
Arizona, Minnesota and New Hampshire consider the offense a misdemeanor, while states like California, Illinois and New Jersey all fine heavily.
Animal control officials in Las Vegas warn that when temperatures outside reach 100 degrees, it can easily escalate to 150 degrees inside a car parked in the sun, which can be detrimental to pet health or even deadly, the news provider reported.
According to the Suite101 webpage, pets are at risk of heat stroke when left in hot vehicles.
"Contrary to what most people believe, dogs overheat more quickly than humans do," the site reports. "Heat stroke happens when heat gain exceeds the body's ability to dissipate the heat."
When this happens, the source said dehydration, heart strain and blood clotting are all concerns for both cat and dog health care.
"Normal body temperature for a dog is about 101 F to 102 F. If his temperature reaches 106 F, he is in danger of brain damage, vital organ failure and death."
The source said that even if a dog recovers from heat stroke, it will likely still have lifelong dog health care problems.
According to the source, signs of heat stroke include frantic panting, wide eyes, thick saliva, red tongue discoloration, vomiting and trouble keeping balance.
If your dog displays any of these symptoms, take your pet to the veterinarian immediately.
However, the best way to ensure your four-legged friends are safe from heat-related health problems is to allow them to relax at home while running summertime errands. This will both ensure prime pet health and keep you from facing fines, jail time, or the loss of your beloved pet.