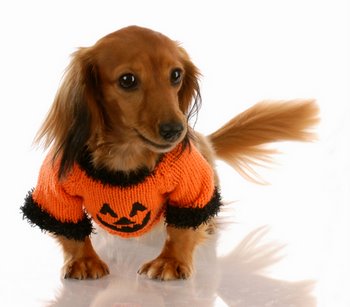 While there are no surefire ways to ensure that your dog will not have an accident this Halloween, there are things you can do to lessen the chance that they will occur. With all of the hustle and bustle of people coming to your house for Halloween parties and the endless ringing of the doorbell by trick-or-treaters, there are ample opportunities for an accident to happen to your pet.
Having dog health insurance can help cover you if an accident does occur on Halloween, but there are also steps you can take to help keep your dog safe this year.
During Halloween it is important to protect your dog from the dangers of eating Halloween candy. The candy itself as well as the wrappers pose serious health risks to your dog. Keep candy in places where your dog can't gain access.
Another Halloween danger for dogs are flames from burning candles. Candles can peak the curiosity of your dog and lead to a burned nose or worse. Your dog may also accidentally knock the pumpkin over, which could burn his fur or start a fire.
Costumes can be a risk for dogs during Halloween. If you decide to dress up your dog, be sure that his costume doesn't hinder his abilities to see, breath or walk. Make sure that your dog only wears the costume when he is being supervised. Dogs that are left unsupervised in costumes may chew the costume, thereby ingesting it, or may injure themselves trying to get the costume off.
Even if you have taken steps to reduce the chances of your dog having an accident, it can still occur. Lessen your chance of having financial strain from a dog accident or emergency by having pet care insurance.