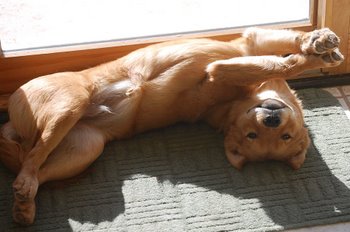 By: Kristie Sullens
Save-An-Angel Founder
For Pets Best Insurance
1 in 3 dogs is diagnosed with cancer each year, making it the leading cause of death for our canine companions. As with humans, EARLY DETECTION is critical and saves many lives every year. In the case of a cancer diagnosis, it's also very helpful to have had a pet insurance policy in place for your pet.
Poochie Pilates is a fun way to check your dog for lumps! Performing monthly sessions could be the difference between life and death for your best friend. Poochie Pilates is for people and dogs of all ages and fitness levels. Not only can it be good for pet health, but it's fun too! No medical degree or fancy machinery required! It's simple, easy and fun. The next time your dog nudges you for affection, take that moment as an opportunity to be their voice. Let's get started.
What you will need
• A positive attitude and a pooch
• A piece of paper and a pen to track any changes. You will use the same piece of paper every time so make sure it's accessible.
• A calm, quiet environment. Pick a place where you and your dog feel comfortable and relaxed.
• Treats! Giving treats is a great way to distract hyper active or nervous dogs and puppies.
Pilate Techniques
Poochie Pilates is a great way to keep older dogs limber, and it helps young dogs become accustomed to being touched all over. The more comfortable your dog is with being handled, the easier it will be to tell if something is off. It is especially important for pet health to be sure you check inside the mouth and ears.
Bring your dog to a special place and lay them down on a towel, blanket or even your bed. Let them get used to you petting them while they are in this special place, so they will build a positive association with the Poochie Pilates environment.
When it comes to petting your dog, you can't do it wrong enough or long enough! Here are some tips to get you started. Hold your hand out in front of you and spread your fingers (like you're showing the #5) Place your hands flat on your dog's back end with your fingers spread and gently squeeze. Continue the motion by moving your thumbs toward one another and work your way up. We always massage from the tail to head, or belly to chest to make the dogs more comfortable. Imagine how you would want a massage, and then give it to your pooch.
Make sure to check all over your dog's body including the tail; back legs, belly, inside the legs, paws, chest, neck, back of neck, entire back, ears and even private parts. Remember to check inside of the mouth, because oral cancers are also a threat. We recommend brushing your dog's teeth and giving heart worm preventatives on the same day you perform the monthly Poochie Pilates session.
Or Call 877-738-7237 to Add a Pet to Your Current Policy
When you get to the legs, give your dog a nice long stretch and muscle massage. It might be difficult for older dogs at first; however it's impressive to see how much they improve over time. Just like humans, dogs need to stretch in order to stay limber, so try to incorporate this portion of Poochie Pilates into your routine. Your dog will thank you for it!!
Now it's time to create a baseline that will help you determine what is normal for your dog. It's not uncommon for dogs to get lumps and bumps, however not all lumps are cancerous. Write the date, location of the lump, if the lump is hard or soft and the size and color of your findings on the sheet. This will help you track any changes that arise in the future. It's important to note if the lump is hard or soft.
If you discover anything on your dog's body, it' It's important to know if any existing lumps are benign (non-cancerous), and it will also help you to keep an eye on them if they grow.
Warning signs of cancer
• Abnormal swellings that persist or continue to grow
• Sores that do not heal
• Weight loss
• Loss of appetite
• Bleeding or discharge from any body opening
• Offensive odor
• Difficulty eating or swallowing
• Hesitation to exercise or loss of stamina
• Persistent lameness or stiffness
• Difficulty breathing, urinating, or defecating
When to call the doctor
Save-An-Angel recommends monthly "Poochie Pilates" sessions with your dog to check for unusual lumps, bumps and other warning signs. If you discover something on your dog, have it checked out by your vet right away! While Lymphoma is one of the most common types of cancer in dogs, it is just one of many that can occur. As with humans, EARLY DETECTION is critical and saves many lives every year.
For more information about pet health or dog insurance visit Pets Best Insurance.