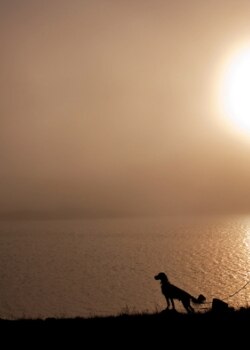 By Coleen Ellis, pet loss and grief expert, for Pets Best Insurance.
Just the mere thought of one of our precious pets dying can be unbearable. The reality of a new normal, life without their unconditional love, and future days void of this pet's quirky personality to brighten our day can immediately illicit tears from deep within oneself.
Death is a part of life. And, like the saying goes, "Saying good-bye is the most difficult thing in life. And we never learn to be good at it."
Yes, death is a part of life. While few people like the thought of this, it will happen to all of us.  Therefore, taking a bit of time to prepare for the inevitable in life will help in eliminating those feelings of anxiousness, those fears of the unknown in having the answers as to what one's options are with the death of a pet.
It gives one peace of mind when taking some time to really think about how to honor a pet's life and how to honor the time that was shared with a family.  It's really looking at it in honoring "The Dash" – the time between the birth/gotcha date and the death date – that dash that represents an entire lifetime lived.
So in preparing to honor this life, think about "The Dash" in this manner:
What were the pet's nicknames?
What type of personality did the pet have and how will that be incorporated into the permanent memori­alization pieces?
Were the nose kisses the best from the pet, therefore, it would be perfect to have that nose print captured on a piece of jewelry?
If you had to sum up the pet in one sentence or statement, what would that statement be?
What were those little terms of endearment that were used with the pet to show love or true feelings?
With eyes closed, what do you think about first in remembering the life that you shared with this pet?
Of course, there are a variety of other physical things that should be done too to remember this pet and the life that they shared with you and your family. Some of those other ideas will be reviewed in my next blog.