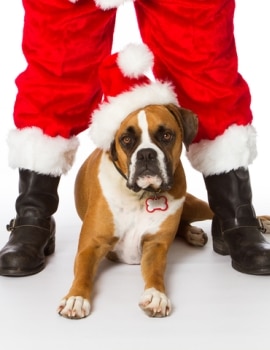 Come have your dog's picture taken with Santa Claus and support the Meridian Valley Humane Society at the same time!
When:  Wednesday, December 18th, from 4-7 pm
Where: H3 Pet Foods, 1801 W Cherry Ln, Meridian, ID 83642
Cost: Pictures are complimentary with a minimum $10 cash donation. For each cash donation to the Meridian Valley Humane Society (MVHS), H3 Pet Foods will donate one 15 lb bag of food to MVHS!
Brought to You By
Pets Best, a nationwide pet insurance agency for dogs and cats based in Boise, ID.
H3 Pet Foods in Meridian, ID.
About the Meridian Valley Humane Society
The MVHS recently reopened thanks to its all volunteer staff. The MVHS relies on volunteers and donations to operate. The MVHS works with and shelters homeless, abandoned and abused dogs and helps find them their forever home.
Want to Attend?
To let Pets Best know you plan to attend the photo shoot, you can RSVP by clicking here.
How to Contact–and Donate to–the Meridian Valley Humane Society
If you are unable to attend but would like to donate, volunteer or have questions for the Meridian Valley Humane Society, here is their information.
Mailing Address: Meridian Humane Society, 3313 W. Cherry Ln. #603, Meridian, ID 83642
Physical Address: 191 N. Linder Rd., Meridian, Idaho 83642
Phone: 208-794-0944 | Email: meridianhumanesociety@gmail.com
MVHS is looking for donations of all kinds, including:
Financial donations – Any/all amounts
Food – Ideally grain free
Dog toys
Dog leashes
Blankets
Getting Your Photos After the Event
Scroll down the page until you find your pictures. All pictures from the event will be here.
Click on one of your photos
The photo will appear by itself, click on the photo

one

more time.
Now right click on the photo. Choose "Original"
A very large version of your photo will show up. Right click on the photo and select "Save image as…"
A box will open and you can save the file on your computer.
Repeat the steps above to save each of your photos onto your computer.
Now you have your photos on your computer. These are high resolution photos that print nicely in many sizes, up to an 8"x10." We hope you enjoy them. Happy Holidays!