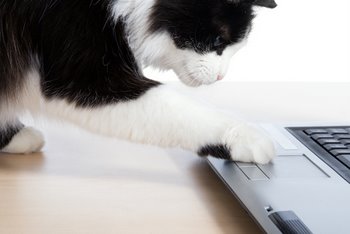 Like most other social media enthusiasts, Shiva starts her day with breakfast and a quick status update on Facebook.
The only difference—Shiva's not human. She's a cat.
The kitty's owner, Kirsty Worrall, created a Facebook account for her cat, because she said her family seemed more interested in Shiva's daily life than how she and her partner were faring, CNN reports.
"I come from a family of huge cat lovers," Worrall told the news provider. "They're fascinated with Shiva… they've been able to watch her grow through the Facebook page."
Worrall told the source that her family and friends were able to keep tabs on her cat's health, as well as watch her grow from a kitten to an adult.
According to the source, although exact numbers are difficult to pin down, Worrall is just one of many pet owners who pose as their pets on social networks.
"A quick scan of Facebook yields at least a few thousand profile pages for dogs and cats along with less common pets such as birds, hamsters, ferrets, turtles, fish and rabbits," CNN reports.
Though pet owners who post as their animals generally do so for fun, many are unaware that it violates Facebook's terms and conditions.
"Since accounts that impersonate anyone or anything can damage the integrity of this environment,
Facebook doesn't allow fake profiles for pets," Facebook spokesperson Winnie Ko told CNN in an e-mail.
Jessica Frey, who controls her rabbit Nestle's Facebook page, told CNN she thinks that seems silly.
"We all know it's really not the pets that are doing it," Frey told the news provider. "It's the people behind them that are making friends with other people. It's pretty harmless."
Worrall agrees, telling CNN that she feels completely comfortable using the social media site to pose as her cat "with other crazy cat ladies."
Facebook did not respond when asked by the news source whether the site removes pets' profile pages.