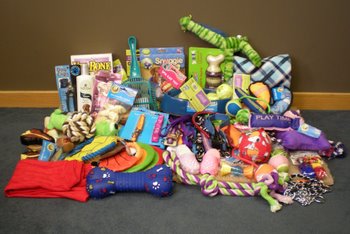 Due to the oil spill, shelters in Erica Callais' area have seen a 20% increase in pets because owners can no longer afford to care for them.
"Three hundred and fifty three cats and dogs are euthanized everyday (in Louisiana). It would be a dream to get that number to zero," Callais said.
Callais, the founder and director of Pet Education Project—a non-profit organization that aims to educate the youth of America in humane animal treatment, reached out to Pets Best Insurance with a simple request—to help animals that have been affected by the oil spill in Louisiana.
Considering the pet insurance company is comprised of animal lovers, it was no surprise they jumped at the opportunity.
Callais said she started the organization in March 2009, and that thus far, has spoken to over 5,000 students at various schools and 3,000 members of the public on the importance of spaying and neutering and other pet health related issues.
"Education is key to changing anything in a society that's not working," Callais said.
Since school is out for the summer, Callais said instead of talking to students, the organization's focus has shifted to helping pets who have been affected by the recent oil spill.
"A lot of families have to choose between putting food on their tables or [feeding] their pets," she said.
Callais said she decided to start a drive that has since grown into a nationwide outreach for pet food and supplies.
"This weekend we will be delivering and distributing to Grand Isle and Golden Meadow, LA," she said, adding that the organization has collected a total of 3,500 pounds of food and about 300 pounds of pet supplies and other pet health related items.
Pets Best Insurance held a weeklong drive at their office and shipped off two boxes of pet supplies to the animals in need.
"I hope that the donations keep coming in," Callais said. "Our drive is going until July 31st. This is going to be a very long period of financial need for these families."
For more information on donating pet supplies to Pet Education Project visit www.peteducationproject.org or visit Callais' blog www.eatgumbolivelonger.com.