Virtual walkathon raises money to help U.S. military service members and their pets 
BOISE, Idaho – Pets Best Insurance Services, LLC, a leading U.S. pet health insurance agency, teamed up with Dogs on Deployment (DoD) in their first ResQwalk for Military Pets. From August 1 to August 28, ResQwalk hosted a special digital walkathon to raise money for military members and their pets.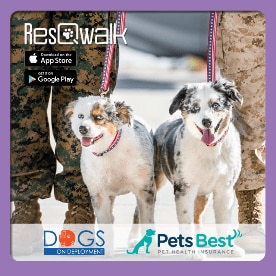 40,000 participants downloaded the ResQwalk app and walked 599,986 miles, which exceeded the original goal of 300,000 miles. For every person who downloaded the ResQwalk app and participated in the walkathon, Pets Best donated $1 (up to $1000) to Dogs on Deployment.
ResQwalk is a free mobile app that enables people to raise money and resources for animal welfare organizations, simply by walking. The ResQwalk community has walked over 5.5 million miles for animals in need and has given away $125,000 and $30,000 in products to over 4,000 animal welfare partners. ResQwalk's mission is to educate and build a network of like-minded, socially conscious people who help and support the animal welfare community.
"Working with ResQwalk was a fantastic way to involve our supporters in fundraising for DoD and we are so pleased with the outcome," shared Alisa Johnson, President and Co-Founder of Dogs on Deployment. "Pets Best and ResQwalk allowed the community to come together to raise awareness and support for our organization, in the end having a significant impact on military members and their pets."
Dogs on Deployment (DoD) is a national non-profit which provides an online network for U.S. service members to search for volunteers who are willing to board their pets during their owner's service commitments. DoD promotes responsible, life-long pet ownership in the military community through educational and financial resources. DoD aids pets that belong to active duty, reservists, guard, honorably discharged veterans and their families.
"ResQwalk is a wonderful app and as a long-time supporter of Dogs on Deployment, Pets Best is pleased that the ResQwalk  had a fantastic virtual turnout from pet parents," said Chris Middleton, Pets Best President. "We appreciate the 40,000 walkers across the country that helped raise money for much-needed services and resources for military pet owners who bravely serve our country."
For more information about Dogs on Deployment and ResQwalk, visit http://resqwalk.com/.
About Pets Best Insurance Services, LLC
Dr. Jack L. Stephens, founder and director of Pets Best, founded pet insurance in the U.S. in 1981 with a mission to end euthanasia when pet owners couldn't afford veterinary treatment. Dr. Stephens went on to present the first U.S. pet insurance policy to famous television dog Lassie. Pets Best provides coverage for dogs and cats. Dr. Stephens leads the Pets Best team with his passion for quality pet care and his expert veterinary knowledge. He is always available to answer questions regarding veterinary medicine, pet health and pet insurance. The Pets Best team is a group of pet lovers who strive to deliver quality customer service and value. Visit http://www.petsbest.com for more information.
###