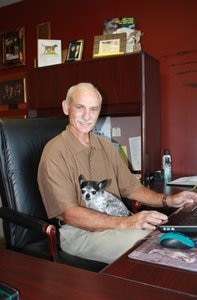 By: H.M.
For Pets Best Insurance
Pets Best Insurance President and Founder, Dr. Jack Stephens, has been named one of the top 5 most famous veterinarians in the world for his role in the pet health insurance industry.
Dr. Stephens, a former practicing veterinarian who founded the concept of and implemented pet health insurance in the US in the early 1980's, has been listed as one of the most influential and famous veterinarians by popular website, www.Ranker.com.
The pop culture site, Ranker.com, ranks thousands of varying topics— including everything from the most important leaders in world history, to the best theme parks for roller coaster junkies.
The honor of the top 5 most famous veterinarian listing was ironically unveiled the very month Dr. Stephens founded pet health insurance 29 years ago—which is also revered by many in the profession as National Pet Insurance Month.
Dr. Stephens said he is honored to be named among some of the most influential veterinarians given his hand in pet insurance, but reminds that there were many who paved the way in the vet industry before him.
"There are many other vets who have come up with great discoveries, created new surgeries and found vaccines that once devastated livestock," Stephens said. "To even be considered for this, given my role, renders me speechless. I am sincerely honored."
Pet expert Dr. Jack Stephens, founded the US pet insurance industry after he had to euthanize a dog because the owner couldn't afford treatment. A few weeks later, Dr. Stephens ran into his former client and her child at the supermarket. When the mother asked the little girl if she remember Dr. Stephens, the little girl looked up and responded, "Yes, he killed my dog."
It was at this very point in time, Dr. Stephens determined he wanted to end "economic euthanasia" and founded the first pet insurance company in the US shortly thereafter. In 2005, Dr. Stephens decided to take what he had learned in the industry and used it to form Pets Best Insurance, where he currently serves as president and founder.
Dr. Stephens is a pet enthusiast who shares his home with his wife Vicki and their multiple pets. Jack's driving passion to increase the quality of care for pets and his background in the veterinary industry fortify him as the guru and expert on pet insurance that other industry professionals turn to.
Learn more about pet insurance.