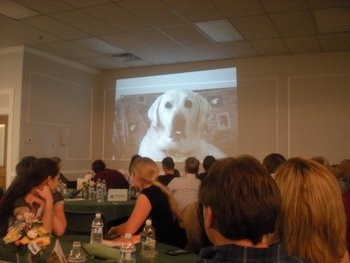 By: Chryssa Rich
For Pets Best Insurance
Today wraps up the end of Prevent-A-Litter month, when pet organizations around the country promote the importance of spaying and neutering pets in order to avoid overpopulation and euthanization.
According to The Humane Society of The United States, four million cats and dogs are put down in U.S. shelters each year– that is about one every four seconds.
At Pets Best Insurance, we realize the subject of spaying and neutering can be controversial, but in our commitment to our local community and shelters nationwide, we choose to support organizations that help make high-quality spay and neuter surgeries convenient and affordable.
At this weekend's comically-named "Spay-Ghetti, No Balls" fundraising dinner, Diane Ayres, director of SNIP (Spay and Neuter Idaho Pets), reported that the top two reasons pet owners don't spay and neuter their pets are:
1. The cost is too high
2. They just don't get around to it
Diane has been working tirelessly to open a low-cost spay and neuter clinic near Boise, with a long-term goal of offering mobile service as well. With her help, pet owners who want the service will be able to get their pets spayed and neutered in a convenient and affordable manner. They'll also offer trap-spay-release service for feral cats. Ground-breaking has been tentatively scheduled for this spring.
The Spay-Ghetti event was full of good food and entertainment, including a DJ, silent and live auctions with a real auctioneer, a spaghetti dinner catered by Carino's Italian, and a comical video featuring talking dogs (see picture). Pets Best Insurance sponsored a table and donated to the live auction, and many of us won great silent auction items.
Pets Best Insurance sends a sincere "thank you" to Diane Ayres, SNIP, and the 100+ guests who donated items and attended this weekend's event!
Pets Best Insurance offers spay/neuter coverage through the BestWellness™ routine care coverage option. BestWellness can be added to any regular plan for routine care benefits with no deductible to meet.