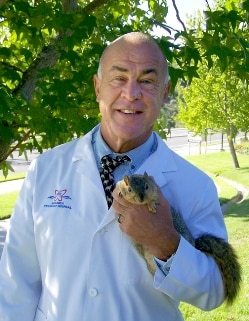 Contest recognizes nation's finest veterinarians, provides funding to treat animals in need 
BOISE, Idaho (July 29, 2013) – Pets Best Insurance, a leading U.S. pet insurance agency, announced today the most recent quarterly finalists of its My Vet's the Best contest, which honors the nation's most outstanding veterinarians and helps fund the treatment of animals in need.
Pets Best Insurance selected the following six finalists after receiving nominations from pet owners across the country:
-Dr. William (Bill) Sheperd – Camelot Veterinary Services, Uniontown, Pa.
-Dr. Elisa Dowd – Tassajara Veterinary Clinic, Danville, Calif.
-Dr. Kimberly Burkhardt – Twin Maples Veterinary Hospital, West Carrolton, Ohio
-Dr. Jennifer Tremblay – Littleton Paws Animal Hospital, Littleton, Colo.
-Dr. James Bogdansky – Country Club Animal Hospital, Miami, Fla.
-Dr. Glenn Craft – Monarch Veterinary Hospital, Laguna Niguel, Calif.
This quarter's finalists share a common theme of community-focused, charitable endeavors. Dr. Craft has applied his veterinary skills during mission work in Thailand, where he trained village veterinarians.  Dr. Dowd is active in 4-H efforts in her community, and Dr. Tremblay has also worked with the well-known youth development organization. Dr. Bogdansky has worked alongside a number of animal welfare and rescue organizations, including the Cat Network and Paws 4 You. Fostering homeless animals gave professional inspiration to Dr. Burkhardt. Dr. Sheperd serves as president of the nonprofit Western Pennsylvania National Wild Animals Orphanage, which provides homes for large carnivores like lions and tigers that have been confiscated, abandoned or abused.
"The My Vet's the Best contest not only shares pet owners' gratitude to their veterinarians, it also sheds light on the selfless efforts of these professionals who fully devote themselves to loving and caring for animals,"  said Dr. Jack Stephens, president and founder of Pets Best Insurance. "We are thrilled to recognize these outstanding veterinarians and provide additional funding to help animals in need."
This is the third consecutive year Pets Best Insurance has recognized innovative and community-driven veterinarians with its ongoing My Vet's the Best Contest. Each year, Pets Best Insurance calls upon pet owners to select the contest's quarterly winners by voting online. Each winner receives $1,000 to treat animals in need, and the pet owners who nominate each winning veterinarian receive $200 for sharing the stories of their favorite pet doctors.
Members of the public have through August 12, 2013 to vote for their favorite of the six finalists. Voting polls can be found on the Pets Best Insurance website, www.petsbest.com, and on the company's Facebook page, www.facebook.com/PetsBestInsurance.
Pet owners from across the country are encouraged to nominate doctors who demonstrate exceptional care and devotion to their four-legged patients. In addition to awarding quarterly winners, Pets Best also selects an annual grand prize winner.
In 2010, Pets Best Insurance became the nation's first pet insurance company to develop a contest aimed at recognizing outstanding veterinarians. Since then, the company receives hundreds of nominations a year.
"Each year, we hear about many inspiring demonstrations of remarkable veterinary work across the country, and Pets Best is excited to provide a platform to share these stories," Stephens said. "We look forward to receiving additional nominations from pet owners in the coming months and years."
For more information about the My Vet's the Best contest, visit www.petsbest.com/vetpromo.
About Pets Best Insurance
Dr. Jack L. Stephens, president of Pets Best Insurance, founded pet insurance in the U.S. in 1981 with a mission to end euthanasia when pet owners couldn't afford veterinary treatment. Dr. Stephens went on to present the first U.S. pet insurance policy to famous television dog Lassie. Pets Best Insurance provides coverage for dogs and cats and is the only veterinarian founded and operated pet insurance company in the United States. Dr. Stephens leads the Pets Best Insurance team with his passion for quality pet care and his expert veterinary knowledge. He is always available to answer questions regarding veterinarian medicine, pet health and pet insurance. The Pets Best Insurance team is a group of pet lovers who strive to deliver quality customer service and value. Visit www.petsbest.com for more information.
Pet insurance plans offered and administered by Pets Best Insurance are underwritten by Independence American Insurance Company, a Delaware Insurance company. Independence American Insurance Company is a member of The IHC Group, an insurance organization composed of Independence Holding Company, a public company traded on the New York Stock Exchange, and its operating subsidiaries. The IHC Group has been providing life, health and stop loss insurance solutions for nearly 30 years. For information on The IHC Group, visit: www.ihcgroup.com. In states in which Independence American Insurance Company's new policy form has not yet received regulatory approval, Aetna Insurance Company of Connecticut will underwrite policies. Each insurer has sole financial responsibility for its own products. To determine the underwriter in your state, please call Pets Best at 1-866-929-3807.
Pets Best Insurance is a proud member of the North America Pet Health Insurance Association (NAPHIA).
Photo: Veterinarian Dr. Glenn Craft, is a finalist in the My Vet's the Best contest.
###