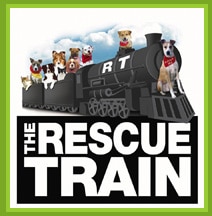 By: Chryssa Rich
Pets Best Insurance Marketing Associate
A former professor once used this analogy to describe solving societal problems: Imagine you're standing at a river bend, and one by one, people are being swept down the river while calling to you and others for help. You can spend all your energy pulling them from the river, or, you can go upstream and stop them from falling in the first place.
A similar choice faced two volunteers at Poochville Animal Rescue in Los Angeles nearly a decade ago. They'd started an effort to save adoptable animals from euthanasia, but over time, realized it was impossible to keep up with the demand of such a metropolitan area. Only one thing could make a long-term difference: education.
The Rescue Train was born from this new focus on education. The group's mission is "to reduce the number of animals entering shelters by promoting education through creating unique programs and solutions." From The Rescue Train website:
…including awareness, community involvement and events, responsible pet ownership, support for the Good Samaritan who rescues an animal, dog training, spaying and neutering and supported adoptions, and support for other rescue groups.
The group operates a no-kill shelter with an educational twist. Many of their dogs are taken through six-week obedience classes, and adopters are encouraged to continue classes post-adoption. They also provide details on each animal's needs and behaviors so new pet owners will know exactly what to expect. Each animal is backed by a team of experts ready to solve problems and smooth transitions to forever homes.
In addition, every animal receives the best pet health care available. All are micro chipped, spayed or neutered and vaccinated. Readers familiar with Jack's story understand why affordable pet health care and preventing euthanasia are so important to the Pets Best Insurance family.
Every week, the team at Pets Best Insurance is given the opportunity to help a number of worthy animal charities from coast to coast. Because we're pet owners and pet lovers, it can be difficult to decide who to help first. With its dedication to long-term solutions, The Rescue Train certainly stood out as a worthy cause, and we are proud to be a sponsor of this year's Race for the Rescues. The event happens to be star-studded, with Glee's Jane Lynch, Carrie Ann Inaba from Dancing with the Stars and Seamus Denver from Castle, among others.
Visitors will find a wealth of information at www.TheRescueTrain.org, including training tips, pet health and safety information, plus opportunities to sponsor animals, make donations and donate volunteer hours. There are even comprehensive pages explaining what to do if you've found a stray animal and how to take great pictures of an animal you're looking to adopt out.
If you're passionate about education and would like to make a long-term difference in the homeless pet population, consider working with The Rescue Train. Dogs, cats and loving families across the United States will thank you for it.