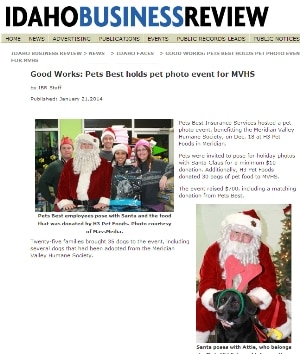 Good Works: Pets Best holds pet photo event for MVHS
Published: January 21,2014
By: IBR Staff
"Pets Best Insurance Services hosted a pet photo event, benefiting the Meridian Valley Humane Society, on Dec. 18 at H3 Pet Foods in Meridian.
Pets were invited to pose for holiday photos with Santa Claus for a minimum $10 donation. Additionally, H3 Pet Foods donated 30 bags of pet food to MVHS.
The event raised $700, including a matching donation from Pets Best.
Twenty-five families brought 35 dogs to the event, including several dogs that had been adopted from the Meridian Valley Humane Society."
See the full article at: http://idahobusinessreview.com/2014/01/21/good-works-pets-best-holds-pet-photo-event-for-mvhs