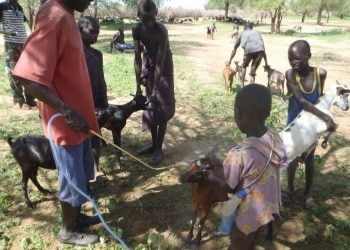 By Megan G., an employee of the Pets Best insurance agency, who participates in veterinary missions across the globe
From October 19-31, 2013 I will be traveling to Kapoeta, South Sudan, Africa to work with the Toposa people on a veterinary mission trip. I am going with a team of 10 people through a partnership between Christian Veterinary Missions and E3 Missions. Our team will provide much needed veterinary care and education.
The Toposa are a very agrarian people group and depend on their livestock for their survival. We will be working alongside the Toposa, training and equipping them so that our work will be sustainable once we leave. We hope to bring a better quality of life to the Toposa by training them to help themselves, instead of relying on additional teams to come in and treat their animals. We had to receive special permission from the Commissioner of Livestock in Kapoeta in order to go on this trip. We will be working alongside the Commissioner to train the people that work under him as well.
I look forward to bringing an update once I come home!
Photos above and below are from an E3 veterinary mission in Sudan to work with the Toposa in 2011. In eight days nearly 8,000 Toposa animals were treated during the mission. Photo credits: picasaweb.google.com/patricia.caroom/E3SudanToposaVetMissionTripJune2011#