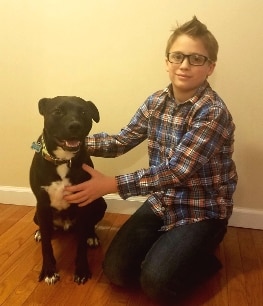 Jordin with his therapy dog, Hank, from Gateway Pet Guardians.
BOISE, Idaho – Pets Best Insurance Services, LLC, (Pets Best), a leading U.S. pet insurance agency based in Boise, Idaho, is pleased to announce a $500 donation in support of Gateway Pet Guardians.
Gateway Pet Guardians is a nonprofit shelter and pet rescue based in St. Louis, Missouri, that makes a difference in people's lives across the United States with pet therapy adoption programs. Pets Best recognizes and supports the importance of therapy programs which is why during the month of February, for each new enrolled Pets Best policy holder, a portion of that new policy was donated back to Gateway Pet Guardians.
"We've been partnering with Gateway Pet Guardians for years now, but when we saw the story about Jordin Brewer, a nine-year-old boy from Missouri who has been battling with debilitating anxiety for years, to the point where his mom, Jennifer, couldn't take the burden anymore and sought any help she could find, we knew we needed to get involved," said Chris L. Middleton, president of Pets Best.
After researching dog therapy programs that might be a fit for her son's situation, she found that adopting a certified therapy dog to be both cost-prohibitive and time-consuming. When a volunteer at Gateway Pet Guardians and family friend of the Brewers heard of their search for a support dog for Jordin, she thought of a solution.
"As a nonprofit dedicated to eliminating the homeless animal problem in the community, Gateway has an outstanding reputation for rescuing, rehabilitating, fostering, and adopting many needy animals," Middleton added. "It was a great match."
After a routine screening process, a lab mix puppy named Hank was approved for adoption and he began his new life with the Brewers — and most importantly, with Jordin. In the months that followed, both boy and puppy have made changes that are no less than extraordinary.
"Just a year ago, my son was crying himself to sleep every night and would get so anxious about school he would throw up. It was heartbreaking," said Jennifer Brewer, mother of Jordin. "He and my son bonded instantly," she added. "Within the first month, we knew it was going to be a fit."
Around the same time, Jordin began seeing a new therapist and was officially diagnosed with autism with level one anxiety (often referred to Aspbergers). With this clarity along with a change of medication, Jordin has a new lease on life — with boy's best friend at his side. "It's been life-changing," says Brewer. "Even his teachers at school, his principal, and counselors said, 'This isn't the same kid.' It has been the best school year ever."
To read more about Jordin Brewer's story, click here.
For more information about how you can help support Gateway Pet Guardians, please visit, www.petsbestinsurance.com or www.gatewaypets.com.
About Pets Best Insurance Services, LLC
Dr. Jack L. Stephens, founder of Pets Best, started pet insurance in the U.S. in 1981 with a mission to end euthanasia when pet owners couldn't afford veterinary treatment. Dr. Stephens went on to present the first U.S. pet insurance policy to famous television dog Lassie. Pets Best provides coverage for dogs and cats. Dr. Stephens' passion for quality pet care and his expert veterinary knowledge guides the Pets Best team. He is always available to answer questions regarding veterinary medicine, pet health and pet insurance. The Pets Best team is a group of pet lovers who strive to deliver quality customer service and value. Visit www.petsbest.com for more information.
Pet Insurance is underwritten by American Pet Insurance Company. Please visit www.americanpetinsurance.com to review all available pet health insurance products.
Pets Best is a proud member of the North American Pet Health Insurance Association (NAPHIA).
###