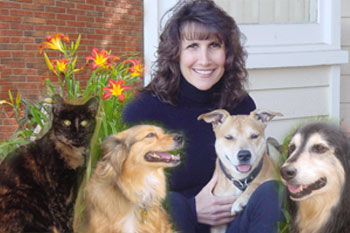 The first My Vet's the Best contest of 2016 honors veterinarian Dr. Stacey Hershman.
BOISE, Idaho – Pets Best Insurance Services, LLC, a leading U.S. pet insurance agency based in Boise, Idaho, is pleased to announce veterinarian Dr. Stacey Hershman as the most recent winner of the agency's My Vet's the Best contest. The nationwide contest honors veterinarians for their outstanding service.
The latest round of the contest brought in 3,429 total votes cast by pet owners across the U.S. through the Pets Best Facebook page.
"This contest acknowledges exceptional veterinarians around the nation, and Dr. Hershman is no exception," said Dr. Jack Stephens, founder of Pets Best. "She is known and appreciated throughout her community for her unwavering service, compassionate service, and willingness to give back."
Photo Above: Dr. Hershman, winner of the nationwide My Vet's the Best contest. (Photo courtesy of Dr. Hershman.) 
Dr. Hershman, who practices at Natural Vet for Pets P.C. in Hastings-on-Hudson, New York, won the contest after receiving 1,445 online votes. She was among hundreds of veterinarians nominated for the seasonal award. The contest's seven other finalists received a significant number of votes. Runner-up Dr. Stacy Oquist of Riverbridge Animal Hospital in West Palm Beach, Florida, had a total of 1,316 votes.
"I am excited and humbled to receive this recognition," said Dr. Hershman. "And I'm grateful that so many people appreciate what I do and that they want to support this cause. I was really honored that people would want to vote for me."
Each winner of the My Vet's the Best contest receives $1,000 from Pets Best to treat animals in need. Dr. Hershman and her small team at Natural Vet for Pets P.C. plan to use the $1,000 cash prize to continue rescuing, treating, and finding homes for stray cats in the community, in addition to helping cover treatment costs for families who can't afford vet expenses. "Saving the life of an animal is the most heartwarming and rewarding gesture a human being can [make]," she says, "And it's the reason why, as a four-year-old girl, I would pick up wounded animals and take them home to nurse back to health. Whether they be cats, dogs, birds, frogs etc. it didn't matter. I have a natural affinity to heal all the helpless and wounded animals."
Cindy Moore, the pet owner who nominated Dr. Hershman, also received $200 from Pets Best. "I was thrilled to learn that Dr. Hershman won the contest," says Moore. "She is so deserving of this honor." In her nomination letter, she described Dr. Hershman as "caring, loving, and compassionate." As her westie's health declined, she began dying from liver cancer. The Moores contacted Dr. Hershman on a Sunday night, and the vet visited their home after hours so that their pet could pass away peacefully in the comfort of the family's home. "Her compassion that evening and always will never be forgotten," says Moore. "She was there for me and my husband at one of the darkest days of our lives."
As an emergency vet for over 14 years, Dr. Hershman treated difficult cases in which animals were critically ill or injured, and split-second decisions often had to be made that would serve an animal's best interests. She has carried this expertise and mindfulness into her current practice, where she works hard to ensure that decisions are made that benefit both animal and owner over the long term. Read more about Dr. Hershman via our in-depth interview here.
Since 2010, Pets Best has recognized outstanding veterinarians just like Dr. Hershman through its My Vet's the Best Contest. Pets Best is the nation's first pet insurance company to develop such a contest, and again received hundreds of nominations from grateful pet owners. Voting for the contest's seasonal winners is open to the public through the Pets Best Facebook page, and each year's grand prize winner is selected by an internal review panel comprised of respected veterinarians. For more information about the My Vet's the Best contest, visit our blog.
About Pets Best Insurance Services, LLC
Dr. Jack L. Stephens, founder of Pets Best, started pet insurance in the U.S. in 1981 with a mission to end euthanasia when pet owners couldn't afford veterinary treatment. Dr. Stephens went on to present the first U.S. pet insurance policy to famous television dog Lassie. Pets Best provides coverage for dogs and cats. Dr. Stephens' passion for quality pet care and his expert veterinary knowledge guides the Pets Best team. He is always available to answer questions regarding veterinary medicine, pet health and pet insurance. The Pets Best team is a group of pet lovers who strive to deliver quality customer service and value. Visit www.petsbest.com for more information.
Pet insurance coverage offered and administered by Pets Best Insurance Services, LLC is underwritten by Independence American Insurance Company, a Delaware insurance company. Independence American Insurance Company is a member of The IHC Group, an organization of insurance carriers and marketing and administrative affiliates that has been providing life, health, disability, medical stop-loss and specialty insurance solutions to groups and individuals for over 30 years. For information on The IHC Group, visit: www.ihcgroup.com. Additional insurance services administered by Pets Best Insurance Services, LLC are underwritten by Prime Insurance Company. Each insurer has sole financial responsibility for its own products.
Pets Best is a proud member of the North American Pet Health Insurance Association (NAPHIA).
###