Honor Bestowed for the Fourth Straight Year.
BOISE, Idaho – Pets Best Insurance Services, LLC (Pets Best), a leading U.S. pet insurance agency, announced today it has been named one of the Best Places to Work in Idaho for the fourth consecutive year.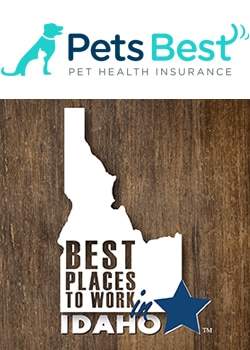 "Our company values, which have built strong relationships with pet owners across the nation, are the same values that led to winning this award for four years in a row," said Chris L. Middleton, president of Pets Best.
"Pets Best is the best place I have worked in my entire career," said Kendra Carlson, who works in Customer Care. "The atmosphere when you walk into the office each day is positive and upbeat; the dogs running around your feet make it even better."
Pets Best is among a select group recognized by the Best Places to Work in Idaho, an annual collaboration between the Idaho Business Review and POPULUS. A survey is sent to all employees, which confidentially measures employee happiness using metrics such as performance in compensation and benefits, employee growth and development, work-life balance, workplace environment and company management.
According to Middleton, the number one morale booster at Pets Best is the pet-friendly office space that allows dogs, cats, and on occasion has hosted a pet duck and mini pig.  According to a survey by the American Pet Products Association, companies that welcome pets in their offices see a decrease in employee stress levels and less absenteeism from work.
Middleton says Pets Best prides itself on policies that put its employees first. Options for remote work, baby showers for expecting mothers and fathers, and an "open door" policy to management for suggestions and concerns are just a few of the items that promote employee well-being and support a family environment.
"Pets Best is the best place to work because it's a company that strives to provide the best environment for human, feline and canine employees," said Erica Boone, who works in the claims department. "All employees are encouraged to provide suggestions to help make things run smoothly and open communication is a big part of the company. Everyone here at Pets Best is treated like a valuable member of the team."
Lastly, Middleton says that to have a happy office, fun must be a part of the equation. There is no shortage of fun and laughter at Pets Best inside and outside the office. Customer Appreciation week each fall brings themed days with corresponding costume contests, games and food. There are regular potlucks and monthly birthday celebrations. While outside the office, Pets Best employees collaborate for local philanthropic events and form sports teams, including a kickball team and bowling league.
"I've been with Pets Best for 10 years and I still look forward to coming into work every day," said Karen Nelson, who works in Information Technology. "Our management team is energetic and very positive.  That positive energy is felt throughout Pets Best. All of us work as a team and genuinely enjoy working together. We work hard AND have fun!"
About Pets Best Insurance Services, LLC
Dr. Jack L. Stephens, founder of Pets Best, started pet insurance in the U.S. in 1981 with a mission to end euthanasia when pet owners couldn't afford veterinary treatment. Dr. Stephens went on to present the first U.S. pet insurance policy to famous television dog Lassie. Pets Best provides coverage for dogs and cats. Dr. Stephens' passion for quality pet care and his expert veterinary knowledge guides the Pets Best team. He is always available to answer questions regarding veterinary medicine, pet health and pet insurance. The Pets Best team is a group of pet lovers who strive to deliver quality customer service and value. Visit www.petsbest.com for more information.
Pet insurance coverage offered and administered by Pets Best Insurance Services, LLC is underwritten by Independence American Insurance Company, a Delaware insurance company. Independence American Insurance Company is a member of The IHC Group, an organization of insurance carriers and marketing and administrative affiliates that has been providing life, health, disability, medical stop-loss and specialty insurance solutions to groups and individuals for over 30 years. For information on The IHC Group, visit: www.ihcgroup.com. Additional insurance services administered by Pets Best Insurance Services, LLC are underwritten by Prime Insurance Company. Each insurer has sole financial responsibility for its own products.
Pets Best is a proud member of the North American Pet Health Insurance Association (NAPHIA).
###