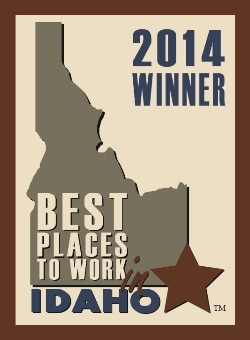 BOISE, Idaho – Pets Best Insurance Services, LLC (Pets Best), a leading U.S. pet insurance agency, announced today it has been named one of the Best Places to Work in Idaho for the second consecutive year.
Pets Best is among a select group of businesses recognized in 2014 by the Best Places to Work in Idaho, an annual collaboration between the Idaho Business Review and POPULUS, an Idaho-based marketing and HR research firm. Pets Best was highlighted in the Small Employers category, featuring companies with 20 to 99 employees.
The Best Places to Work in Idaho awards are distributed based on the results of confidential employee surveys designed to measure general workplace satisfaction. The program rates companies by their employees' feedback in five key areas, including compensation and benefits, employee growth and development, and work-life balance. The surveys also measure workplace environment and company management.
Pets Best, founded in 2005 by veterinarian Dr. Jack Stephens, offers a wide range of unique perks for its team members. The agency promotes a fun, animal-friendly work environment, with employees encouraged to bring their pets to the office. This invitation extends beyond just dogs and cats, with a number of other animals, including baby ducks, making appearances at the agency. In addition, Pets Best offers comprehensive benefits, including paying for pet insurance for employees' four-legged family members.
"Employees at Pets Best are passionate about helping pet owners across the U.S. afford veterinary care for their dogs and cats, and our agency believes it is important to give our employees the same support for their beloved pets," said Dr. Stephens, who also serves as the agency's president. "We value our dedicated staff members, and we place a high priority on rewarding hard work with valuable benefits, a positive work environment and a variety of engaging activities."
Raychel Sagar, customer care manager for Pets Best, said she enjoys coming into work every day because the agency recognizes employees' contributions and encourages them to enjoy their jobs alongside the pets they love.
"The leadership team at Pets Best not only cares for the pets we insure, they also care about their employees," Sagar said. "The agency celebrates our successes and thanks employees through company parties, dress-up theme days with games and a variety of other celebrations. Pets Best also formally recognizes outstanding employees on a monthly and quarterly basis. As employees, we are treated like family, and we know our opinions matter."
Paul Butcher, president and director of research for POPULUS, said local companies must meet a high standard for supporting and rewarding their employees to win an award from the Best Places to Work in Idaho.
"Pets Best won this award because the company takes a great deal of care with promoting the satisfaction, engagement and loyalty of its employees," Butcher said. "I feel confident saying they have a very strong workplace."
About Pets Best Insurance Services, LLC
Dr. Jack L. Stephens, president of Pets Best, founded pet insurance in the U.S. in 1981 with a mission to end euthanasia when pet owners couldn't afford veterinary treatment. Dr. Stephens went on to present the first U.S. pet insurance policy to famous television dog Lassie. Pets Best provides coverage for dogs and cats and is the only veterinarian founded and operated pet insurance agency in the United States. Dr. Stephens leads the Pets Best team with his passion for quality pet care and his expert veterinary knowledge. He is always available to answer questions regarding veterinarian medicine, pet health and pet insurance. The Pets Best team is a group of pet lovers who strive to deliver quality customer service and value. Visit www.petsbest.com for more information.
Pet insurance coverage offered and administered by Pets Best Insurance Services, LLC is underwritten by Independence American Insurance Company, a Delaware insurance company. Independence American Insurance Company is a member of The IHC Group, an organization of insurance carriers and marketing and administrative affiliates that has been providing life, health, disability, medical stop-loss and specialty insurance solutions to groups and individuals for over 30 years. For information on The IHC Group, visit: www.ihcgroup.com. Additional insurance services administered by Pets Best Insurance Services, LLC are underwritten by Prime Insurance Company. Some existing business is underwritten by Aetna Insurance Company of Connecticut. Each insurer has sole financial responsibility for its own products.
Pets Best is a proud member of the North America Pet Health Insurance Association (NAPHIA).
###