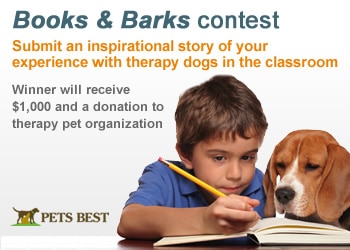 Nationwide Books & Barks contest to provide winner with funds for classroom supplies
Boise, Idaho – Pets Best Insurance Services, LLC (Pets Best), a leading U.S. pet insurance agency, has announced the launch of their first Books & Barks contest. Pets Best developed the contest to promote the benefits associated with utilizing therapy dogs to assist students in classrooms across the nation.
Pets Best invites therapy pet handlers and organizations, students and educators to submit inspirational stories about therapy dogs in classrooms and the positive effects they have on students.  The winning class or school will receive $1,000 from Pets Best for classroom supplies. In addition, Pets Best will offer a $500 donation to the therapy dog handler's favorite animal-related nonprofit organization.
"Therapy dogs can provide a calming and supportive presence for children who are trying to learn something new, and we are proud to honor the educators who work to boost students' confidence by bringing therapy dogs into the classroom," said Dr. Jack Stephens, president and founder of Pets Best. "Pets Best looks forward to hearing heartwarming stories of children learning alongside their new four-legged classmates."
Representatives from therapy dog organizations, students and educators can enter the contest by visiting www.petsbest.com/forms/books-and-barks-contest. Submissions should include a short essay of 250 words or less. A judging panel comprised of representatives from Pets Best will select finalists from the submitted entries based on their unique experiences and heartfelt stories. The public will then have a chance to vote online for their favorite submissions. The submission deadline is August 31st, and online voting will take place from Sep. 8th – Sep. 25th. 
Therapy dogs are trained to provide affection and comfort to people in a broad range of settings, including hospitals, retirement homes and hospices. They are increasingly used in schools and educational programs to help reduce stress among students and promote a comfortable learning environment.
Children often experience a host of benefits when therapy dogs are incorporated into the learning process, said Dr. Lisa Miller, a licensed therapy dog handler who serves as a pediatrician at Good Night Pediatrics in Henderson, Nev. Miller and her Labrador retriever, Taonga, volunteered for several years with Paws to Read, a program in Reno, Nev., that uses therapy dogs to teach children how to read.
"The biggest advantage of using therapy dogs for education is that the dogs aren't judgmental. Kids can relax and be who they are with a dog," Miller said. "At Paws to Read, the kids read aloud to the dogs, and the animals didn't care if they made a mistake or read a word incorrectly. When kids can focus on reading to dogs or teaching dogs the lesson of the day, learning is less like work and is more engaging and fun."
For more information about the Books & Barks contest, visit www.petsbest.com/blog/books-and-barks-contest.
About Pets Best Insurance Services, LLC
Dr. Jack L. Stephens, president of Pets Best, founded pet insurance in the U.S. in 1981 with a mission to end euthanasia when pet owners couldn't afford veterinary treatment. Dr. Stephens went on to present the first U.S. pet insurance policy to famous television dog Lassie. Pets Best provides coverage for dogs and cats and is the only veterinarian founded and operated pet insurance agency in the United States. Dr. Stephens leads the Pets Best team with his passion for quality pet care and his expert veterinary knowledge. He is always available to answer questions regarding veterinarian medicine, pet health and pet insurance. The Pets Best team is a group of pet lovers who strive to deliver quality customer service and value. Visit www.petsbest.com for more information.
Pet insurance coverage offered and administered by Pets Best Insurance Services, LLC is underwritten by Independence American Insurance Company, a Delaware insurance company. Independence American Insurance Company is a member of The IHC Group, an organization of insurance carriers and marketing and administrative affiliates that has been providing life, health, disability, medical stop-loss and specialty insurance solutions to groups and individuals for over 30 years. For information on The IHC Group, visit: www.ihcgroup.com. Additional insurance services administered by Pets Best Insurance Services, LLC are underwritten by Prime Insurance Company. Some existing business is underwritten by Aetna Insurance Company of Connecticut. Each insurer has sole financial responsibility for its own products.
Pets Best is a proud member of the North America Pet Health Insurance Association (NAPHIA).
###